Here's a copy of an article I've produced for my Master Composter post-course work...

COMPOST BENEFITS BOTH PLANTS AND PEOPLE

Residents in the Norfolk village of Narborough are benefiting in more ways than one from an award-winning green waste collection project.

For the village is served by the Compo Community Composting Scheme, which, for an annual fee of £20, enables most of the villagers' green and garden waste to be collected and then composted down into a rich garden soil improver – which they can then buy back!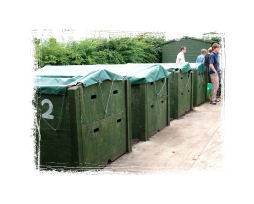 And it's not only the Narborough inhabitants who benefit, as the scheme is run by King's Lynn-based charity Forward + Futures, which is committed to supporting people with learning difficulties. The site at Narborough, along with the other Compo depot at King's Lynn, is a valuable resource for enabling people to become more independent and trainees can work towards a City and Guilds qualification. The service that Compo provides has been recognised with an East of England Community Award and a National Resource Award from the Community Recycling Network, as well as a Norfolk bio-diversity partnership commendation.

Part of the appeal of the Compo scheme is its simplicity. Villagers who subscribe get their garden waste – including grass cuttings, leaves, weeds and prunings – collected weekly and the potato sack-sized bags returned. The organic matter is then taken to a composting area and shredded before being placed into a series of large composting bins, where, eight to ten weeks later, it is sifted and re-bagged as an ideal soil improver.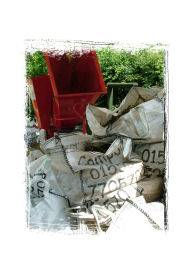 Master Composter Colin West established Compo two years ago and is responsible for the smooth running of the scheme across the two sites. "We collect from 150 homes in Narborough - 300 in all across the two sites - and compost around 60 tonnes of material each year on this site alone. Most of that organic matter would end up in landfill, producing methane as it decomposes," he said. "This way everyone benefits; the villagers enjoy a reliable service and of course their gardens are happy with the composted material; and the Compo trainees get to experience independence, fulfilment and work in a real situation. The compo model is very simple, effective and readily adaptable to other communities," he added.

Norfolk in general is a real composting hotbed, with 60 Master Composters acting as volunteer ambassadors for home composting across the county. Norfolk County Council are justifiably proud of the amount of refuse they compost and recycle – 38.5% against the national average of 27% - but this still means that 61.5% ends up in potentially environment-damaging landfill sites countywide, so the importance of schemes such as Compo cannot be underestimated in trying to reduce this figure still further.

Full details of how to begin composting at home – or even set up a project like Compo – can be obtained from the Norfolk County Council Waste Management Team - call David Hawkyard on 01603 223328 or Jenny Cross (01603 223829), or e-mail david.hawkyard@norfolk.gov.uk or jenny.cross@norfolk.gov.uk. For more information on the Compo Community Composting Scheme, call Colin on 01553 770570.