Information on Cherry trees and fruit sleeves straight from the inventor of our Cherry Tree Sleeve Roll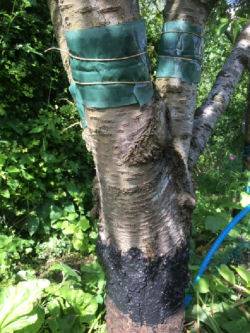 Kept my eye on the cherries this year again and decided to leave the sleeves off till late June as the weather has been exceptionally wet. Noticed a lot of Ant activity on the tree - bad news as they do farm cherry black fly.
Earlier in the year I had put Grease bands on all my trees. I used fruit tree grease & noticed ants had crossed the barrier, as a result I reapplied a thicker coat of grease and fitted Grease Bands, higher up on the tree, as the attached pictures shows.
Fruit sleeves are available only from Harrod Horticulture. They come in 10m rolls, they are made from UV protected fine mesh. A pack costs £19.95 for a 10m roll which equates to just £1.95 per metre. This represents very good value, cost effect and economical.
A pack of Fruit sleeves is sufficient for a large to medium sized tree, allowing the birds to share the more inaccessible fruit!
Fruit sleeves are re-useable and are easy to remove to inspect the fruit for pest and diseases.

To apply, just cut to the required length, not every branch on a tree is a is a metre long!
Fruit sleeves can be used on a variety of fruits including peaches, grapes, figs & plums etc. Use as much of the sleeve as you need for individual fruits, clusters or whole branches, even over a metre long.
The beauty of the fruit sleeves is their simplicity. They are quick and easy to fit, I've timed fitting at under a minute for some branches.
There is no fiddly tying, no strings just simple reusable clips, which are attached on one end or either end if needs be.
Just cut to length allowing extra for tying to the top of the branch and at the bottom of the the sleeve, if required. Once cut to length slide the sleeve on to the branch , as you would with an ordinary "sleeve", as simple as that!
Growing tips provided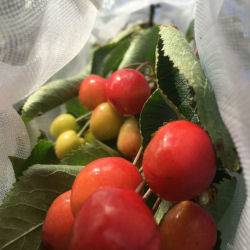 • Fruit must be free from disease or pests before use.
• Use winter tree wash to reduce pest & their eggs over wintering,
• Apply grease bands or apply tree grease to trees trunks to prevent insect pest climbing the tree. These bands need to checked fairly regularly, as ants can cross these barriers if not they are fitted correctly or are deteriorating.
• Aphids are quite easy to spot, usually on the underside of a brown curled leaf, damaging the leaves.
• Inspect fruit sleeves regularly to detect any early signs of pests or disease.
• If the ends of the sleeves are left open it is easy to clear out any detritus that may have accumulated.
• When fitting the sleeves there is an opportunity to prune dead or diseased wood.
Cherries are looking good so far! Here's hoping for a nice early, clean crop.