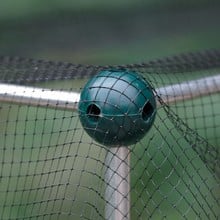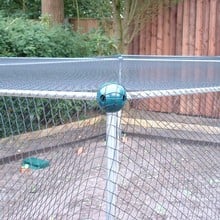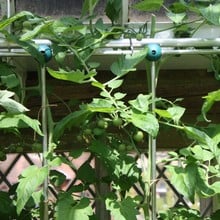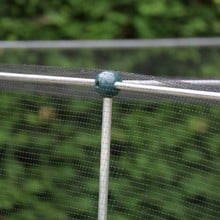 Build-a-Ball Connectors (12 Pack)
£5.95 P&P
Simple Build-a-Ball Connectors make the popular option of building your own fruit or vegetable cage exceptionally quick and easy, giving you the freedom to invent a frame which suits your needs perfectly
Read More
These simple Build-a-Ball Connectors make the popular option of building your own fruit or vegetable cage exceptionally quick and easy, giving fruit and vegetable gardeners the freedom to invent a frame which suits their needs perfectly.

Supplied in packs of 12, the build a balls can be used with aluminium tubing or bamboo canes to construct a simple cage to protect vegetables and strawberries. Quick to erect and dismantle the build a balls have 6 holes, one designed for 16mm aluminium tubing and the rest for 12.7mm aluminium tubing.
We recommend using aluminium tubing with the build a balls to create a more sturdy structure, but the build a balls cane can also be used with bamboo canes.
Build-a-Balls used for connecting together aluminium tubing uprights and top rods
Multi-purpose connector balls have 6 holes
One hole for 16mm diameter upright tubes and five for 12.7mm diameter top rods
Supplied in packs of 12
Tubing fits approx 1cm into ball
Can be used with bamboo canes
4th July 2019
The balls themselves are good, but Harrods could do with supplying 12mm tubing as well....for those of us too lazy to do wedges, etc (see other reviews). I haven't had time to do that yet, so the canes fall out of the holes too easily. Moral - prepare to either wedge or tie canes in place, hence give yourself more time than you think?
Many thanks for your comments which is greatly appreciated, your feedback has been passed onto out R & D Dept. for further review.
17th June 2016
I use this product with canes and netting to make a cage for my peas. Although canes vary in diameter, it is easy to shave canes that are too large and to add wedges - maybe matches or shavings from large canes - if the cane's diameter is too small.
4th June 2016
Absolutely perfect for all gardens, can be used in raised beds, garden boarders at the allotment. Brilliant design. I used the balls with bamboo poles and netting. Now I grow veg from seeds and get to see them mature and hopefully eat without any pesky birds, butterflies etc. The wildlife can have the rest of the garden.