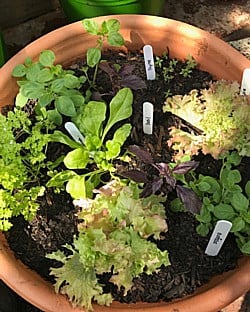 It's been lovely in the kitchen garden this week plenty of blue skies and sunshine, this of course means no rain and an awful lot of watering, as this has been a week of planting. The last of the potatoes (cara) have been planted and their fellow bed mates the beetroot, this is the first bed that's fully planted it feels very satisfying.

This week I have also managed to get the first of the sweetcorn and the squash planted the kitchen garden is really starting to take shape now everything is growing really well and seems happy.
I have put together two pots for convenience picking these are ideal for keeping by your kitchen door. In these containers are some lettuce, spinach and the herbs basil, oregano, coriander, parsley, thyme and mint. The mint has been planted in a pot inside the container to help stop it from swamping all the other plants. These little containers are also very attractive a lovely addition to any garden.

There is still lots of work being done in the greenhouse lots of plants have been potted on this week including more tomatoes, peppers, herbs, and cauliflower however the cauliflower does seem to have been nibbled by something. My guess is snails but I haven't actually found the culprit yet so have used some organic rainproof Slug Pellets for slugs and snails and keeping a close eye to see if they recover (fingers crossed).
The other relentless job has started in the garden this week the weeding now the weather has warmed up and I am busy watering, all the weeds have decided its time to put in an appearance so that's another job to add to the weekly list.