The waiting is finally over and the prizes have been dished out at the 2011 Royal Horticultural Society's Hampton Court Flower Show with Will Quarmby's Heathers in Harmony scooping the Best Small Garden - assisted by a few hundred Beepol bumblebees!

The low maintenance, three tier garden uses dry stone walling and a stunning living heather wall to create separate spaces for a family to relax and entertain. Further heather planting provides continuous colour and equally importantly an essential food source for that garden pollinator without equal, the sadly-in-decline bumblebee.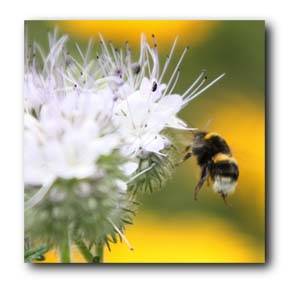 Our man on the spot at the show was pest control expert Julian Ives who supplied two Beepol Bumblebee Hives and Lodges to complete runner-up in the RHS National Young Designer of the Year 2010 competition Will Quarmby's design and was assured that the presence of the two hives - each containing a thriving colony of indigenous UK bumblebees - was a major factor in the judges' decision to award the display Best Small Garden.

Beepol Bumblebee Hives and Lodges - and a tree, fence or wall mounted lodge to locate away from inquisitive children and over-enthusiastic pets - are readily available, along with a whole host of cultural and lifecycle information and represent an ideal method of introducing these at-risk gardenening allies to the vegetable plot, ornamental border and kitchen garden.