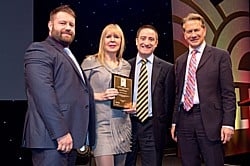 Harrod Horticultural based in Lowestoft received a major award at the BALI National Landscape Awards 2014 in association with Horticulture Week, held in London on Friday 5th December at the Grosvenor Hotel, Park Lane, London.
The Awards, which are run annually by the British Association of Landscape Industries (BALI), pay tribute to landscape designers and contractors who have demonstrated exceptionally high standards of professionalism and skill, and supplier members for their overall customer service.

The company won a BALI Principal Award, for Affiliate Exceptional Service sponsored by SureSet. Former MP and cabinet minister, popular broadcaster and political commentator Michael Portillo hosted the ceremony and presented the award to Stephanie Harrod, Managing Director and Andrew Barringer, Trade Manager from Harrod Horticultural.
Commenting on the company's success, Stephanie Harrod, Managing Director said how delighted she was to have received the award "It is a great accolade to receive such a prestigious award and it gives us great exposure among the 850 industry professionals that attended. It is a true reflection on how hard the company has worked, overall a great team effort! We have come a long way from our humble beginnings in 1954, constantly striving to improve our Company and our Culture and it is certainly fitting to have achieved this in our 60th year. Well done to Andrew Barringer for putting the hard work into the submission and upholding the standard as well as all those that help us to provide a truly 100% professional end to end service. It's a fantastic way to end 2014"
Jonathan Couch, Marketing Director from Harrod Horticultural commented" It goes a long way to ensuring that we are the preferred supplier to garden landscapers and designers, the original aim that we had when we started the journey for trade business. Our reputation has grown hugely in recent years and proves we are a company that does what is says and is a stayer in the market place for the long term. Onwards and upwards!"

The judges said "Harrod Horticultural's products and services fully reflect the needs of the industry. Exceptional levels of customer service are evident from testimonials – and customer retention and re-sales confirm a high level of customer satisfaction. And as it celebrates its 60th anniversary, the business now enjoys 'Investors in People Gold status!"