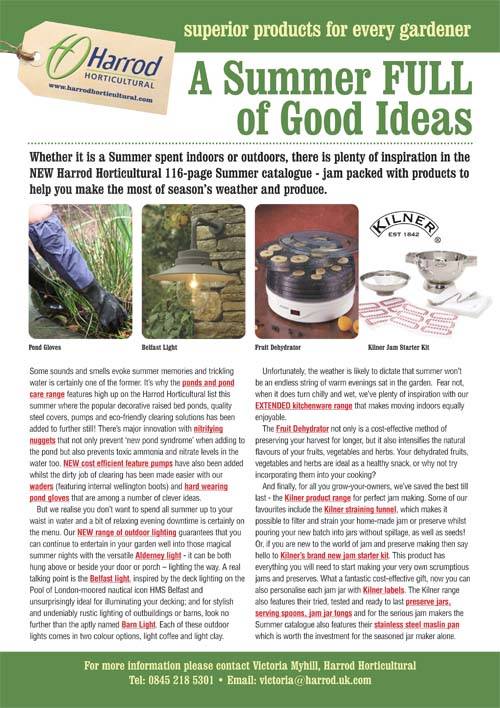 There's no need to extend or move house this summer if you want more space as it's often said that the garden is an outdoor living room – and with a 116-page new catalogue jam packed with products to help you make the most of summer in the garden, Harrod Horticultural will have you beaming!
Some sounds and smells evoke summer memories and trickling water is certainly one of the former. Pond care features high up on the Harrod Horticultural list this summer with a new innovation, nitrifying nuggets, proven to rapidly treat and prevent toxic ammonia and nitrate levels in the water. If you are hoping to add to your pond this summer, fear not, as this product also reduces 'new pond syndrome' and does not harm other fish, wildlife or plants in the process.
Pond waders 'wade' into our catalogue too, making the dreaded job of cleaning out your pond more bearable. These waders have internal wellington boots (three sizes are available) to ensure ease of movement and protection and can be teamed up with the pond gloves, truly a necessity for any pond owner. These gloves are not only comfortable, as they are waterproof but also functional as they can extend up to the shoulder.
But we realise you don't want to spend all summer up to your waist in water and a bit of relaxing evening downtime is certainly on the menu. Our brand new range of outdoor lighting guarantees that you can continue to entertain in your garden well into those magical summer nights with the versatile Alderney light - it can be both hung above or beside your door or porch – lighting the way. A real talking point is the Belfast light, inspired by the deck lighting on the Pool of London-moored nautical icon HMS Belfast and unsurprisingly ideal for illuminating your decking; and for stylish and undeniably rustic lighting of outbuildings or barns, look no further than the aptly named Barn Light. Each of these outdoor lights comes in two colour options, light coffee and light clay.
Unfortunately, the weather is likely to dictate that summer won't be an endless string of warm evenings sat in the garden and when it does turn chilly and wet, we've plenty in our new catalogue to make moving indoors – and the kitchen in particular - equally as enjoyable.
The Fruit Dehydrator not only is a cost-effective method of preserving your harvest for longer, but it also intensifies the natural flavours of your fruits, vegetables and herbs. Your dehydrated fruits, vegetables and herbs are ideal as a healthy snack, or why not try incorporating them into your cooking?
The summer season provides the perfect opportunity for you to enjoy a glass of wine al fresco, but when the rain threatens to dilute your vino, reach for the Vacu-Vin wine saver. Designed to re-seal your wine and slow down the oxidation process so that you can savour your wine for the next available warm summer evening, the Vacu-Vin Wine Saver is the perfect gift for the light drinker or for small-gatherings. For more ostentatious occasions Vacu-Vin has also designed the perfect champagne saver so that you can maintain the bubbles throughout an evening whilst also preventing drips when serving. Vacu-Vin has also launched their instant marinator, perfect for the impromptu summer barbeque. This unique product marinates and tenderises your meat, fish and vegetables in minutes!
And finally, for all you grow-your-owners, we've saved the best till last - the Kilner product range. Some of our favourites include the Kilner straining funnel, which makes it possible to filter and strain your home-made jam or preserve whilst pouring your new batch into jars without spillage, as well as seeds! Or, if you are new to the world of jam and preserve making then say hello to Kilner's brand new starter kit. This product has everything you will need to start making your very own scrumptious jams and preserves. What a fantastic cost-effective gift, now you can also personalise each jam jar with Kilner labels. The Kilner range also features their tried, tested and ready to last preserve jars, serving spoons, jam jar tongs and for the serious jam makers the Summer catalogue also features their stainless steel maslin pan which is worth the investment for the seasoned jar maker.