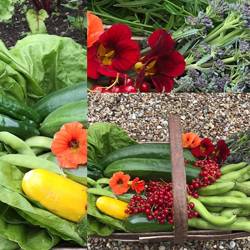 June has has been another challenging month weather wise in the Kitchen Garden. We have had heat, sunshine and thunder storms, the weather does really affect how the crops grow.
However, all our crops are thriving and producing lots for us to eat. We have harvested strawberries, red currents, rhubarb, broad beans, sprouting broccoli, courgettes and cucumbers.
We have planted lots more delicious vegetables this month too; runner beans (Enorma), lettuce (little gem and lollo rosso), wild rocket, radish, herbs (coriander, mint, oregano, thyme, parsley, dill and basil), leeks, sweetcorn, and cauliflower (Romanesco). So, our standard wooden raised beds and maxi manger are brimming.
There has been a lot of pest control implemented throughout the kitchen garden because with lots of edible produce around comes lots of hungry little mouths. We have used Nemaslug to control the slug population, vegetable cages covered in butterfly netting to keep the butterflies and birds off the brassicas and lettuces and have built a wall of wire netting around the beans to protect them from the mice.
Although we did have the strawberries well netted, we did have one very ingenious squirrel that managed to steal a few but so far, they have been the only victim so I don't think things are doing too badly. We have had another visitor to the garden a slow worm, however this creature is welcome as it does love to eat all the pests we don't want in the garden and is a perfectly natural form of pest control.