Victoria Plum and a Green Gage
Dear Jo
I am hoping to buy a Victoria plum tree and a green gage, or Golden gage as you have it advertised, however, my question is this, we do not have room, neither do we wish to have a pair of plum trees in the garden, we do however have a long (well about 30foot) south facing wall with a bit of space into which we would like to train a fan of fruit trees and wonder if the trees you advertise would be suitable for such a job? if this is not the case (I see that the Victoria plum is on a vigorous root stock) could you please recommend a more suitable type?
Many Thanks..
Micky Tostevin
Dear Mr Tostevin
Our Czar, Marjories Seedling and Golden Gage plum trees are maiden trees perfect for training against a south facing wall. They are grown on a moderately vigorous root stock which, with regular pruning and training will cover your wall in fruit. These varieties are self-fertile.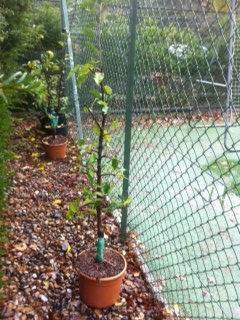 To give you an idea of what size they are supplied as, I have attached a photo of an apple tree delivered to the Kitchen Garden around a month ago. It is 5 foot tall in its pot and the main stem has been pruned at approximately 4 feet.
You will need to provide the tree with a strong system of training wires such as the GrippleTensioner System, and tie in the side shoots as they develop. They will need pruning each year in Late Spring/ Early Summer.
In order to train the trees you need to prune as per these RHS guidelines:
·
During the first summer, prune in the third week of July when the young shoots have finished growing. Shorten new branches to 20cm (8in), cutting above a downward or outward-pointing bud. Also cut side branches back to a bud at 15cm (6in). Train and tie in the central leader to the stake
·
In subsequent years during April, shorten the central leader by two-thirds. Repeat annually until the tree has reached 2.4m (8ft), after which, shorten the central leader to 2.5cm (1in) or less each May, to keep the tree at the same height
·
Vertical shoots at the top competing with the central leader should be removed in late June.
I hope this is helpful for you. Please let me know if I can be of any further assistance.
Kindest Regards
Jo
Jo Blackwell
Kitchen Gardener
Harrod Horticultural