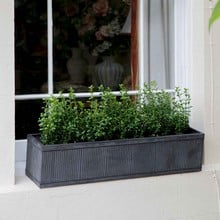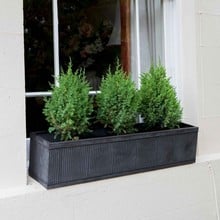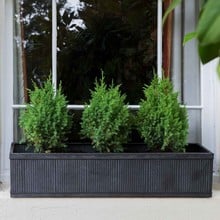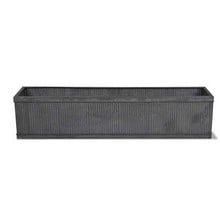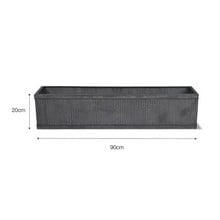 Vence Window Box Planters
£5.95 P&P
Size:
20cm H x 90cm W x 20cm D
The Vence Window Box is perfect for long windowsills and will look stunning planted up to create an eye catching display. This stylish planter has a vintage feel with its attractive ribbed exterior.
Read More
The Vence Window Box is perfect for long windowsills and will look stunning planted up to create an eye catching display. This stylish planter has a vintage feel with its attractive ribbed exterior.
Crafted in Zinc plated Steel for a weatherproof finish, this rectangular planter is perfect to add a bright touch to a windowsill or can be used as a trough style planter in any outside space. Fill with an abundance of dainty flowers or fresh herbs to decorate your exterior and catch your eye as you enter the house.
This window box planter requires inner pots or a plant liner to prolong its life and measures 20cm H x 90cm W x 20cm D.
Vence Window Box Planter
Crafted in Zinc Plated Steel
Weatherproof finish
Measures 20cm H x 90cm W x 20cm D
Ideal for longer windowsills
Vintage feel with ribbed exterior
We recommend using an inner plant pot or liner (not included) to prolong the products life
Planter does not come with drainage holes
Images supplied by Garden Trading
Be the first to write a review for this product.