KITCHEN GARDEN UPDATE OCTOBER 2008
October in the Kitchen Garden and it's just that time of year, its getting hard to get out of bed, the days are shorter, darker and definitely cooler, but that's enough of the negative...

A breath of that crisp autumn air and the sight of low sunlight illuminating the golden leaves, inspires me to roll up my fleece sleeves and get stuck in to all those essential tasks. My first port of call is the greenhouse. Although tomatoes can keep growing and cropping well into December, I want to ripen those fruits and get rid of the elderly vines that harbour mildew and viruses. This means I can make a clean sweep and have everything cleared ready for sowing crops like winter salads.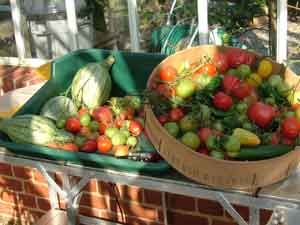 You could cut the stems at ground level and hang them to dry and ripen in a sunny airy spot; I chose to reduce the foliage to the bare bones, removing all the leaves and letting them sit a while before carefully plucking the fruits. I have set them all together, red, green and yellow, in the greenhouse (even the very green fruit will ripen given a bit of time and some rosy neighbours for company). Check regularly for mould though, as you are bound to get a few grey spots and it's best to remove those affected tomatoes to prevent the spread. Watch especially for any bruised or split fruits as these will mould very quickly, and although a fully ripened Brandywine is a wonderful flavour-packed treat, they do tend to split and degrade quite readily so it may be best to eat them up promptly.

We will be enjoying tomatoes well into November as you can see. Next to the raised beds...

Up comes the sweetcorn (any immature cobs are a 'Chicken Treat' and I take them home to the coops).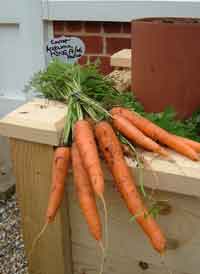 Out come some more Carrots that were grown in roof ridge tiles, tied together, filled with a very sandy mix and popped onto the soil surface to provide extra growing inches. As you can see, the result of my efforts being lovely long roots. (Stephanie is very pleased with them!) These pictured are a late summer sown 'Autumn King'.

Next year, I will try some moisture retaining gel in the base to try and encourage the roots to grow down towards the water. I have Spinach coming on a treat, thanks to the protection offered by the Slug Barrier System and a protective cloche to shield it from the worst of the weather and hungry pigeons. I recently disturbed a flock of about forty birds when entering through the Kitchen Garden gate, and I'm sure they sit in the trees waiting for each fresh batch of plants.

It's no wonder Stephanie is so forthright when it comes to netting! One of the big beds has been given over to the Alliums. At the moment, I have planted, red and yellow onion sets together with Elephant Garlic and Purple Wight, all from the Mammoth Onion Co. Previously, this was the potato patch last season, so although well dug, it's not too rich as the spuds used plenty of the oomph from the previous manuring.

I am currently trialling a new range of root and bulb fertiliser and we will see the result compared to this year's crop that I photographed at harvest earlier this summer. Chard plants and beet await planting out in cleared spaces, again undercover. Mustards, Chinese cabbage and yet more spinach are growing-on indoors. Lettuce leaves also are growing-on in that nice clean greenhouse for winter use. Having sowed Lamb's lettuce late, and using the last of the summer ones, we have enjoyed fresh late summer salads packed with colour and flavour. The potatoes have proved a big hit - Arran Victory makes a gorgeous mash, Salad Blue is great for wedges and Shetland Black is very tasty when roasted whole. The kids loved a pink mash made with Highland Burgundy Red.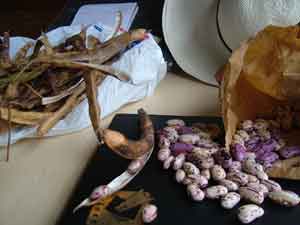 The Borlotta bean pods have dried to a leathery brown and have been stripped. The pulses are then left to dry further before storage. It will be interesting to see how they compare with shop-bought beans (baked with sausages in a rich tomato sauce....Hmm, now I am hungry)

Talking of hungry, one man who is always ready to grab a biscuit and a coffee is Dave. I know he also likes to feed all the hungry plants! Over the summer it was Seaweed Feed that I was passing on, but over the winter something a bit more long term is called for and I will be recommending the Neem Fertiliser as it will also help repel nasty bugs from over-wintering in those roses and fruit trees.

Next month I will be letting you know why its all change for the kitchen garden trees and why the green manures have just had to wait.