KITCHEN GARDEN UPDATE JANUARY 2009

After the season's festivities I was itching to get back in the garden, breathing fresh air and away from the television and sofa, alas I was thwarted by the unrelenting cold spell we endured. The ground here has been hard as rock and impenetrable for two weeks solid. I managed to get the new season's potato selection 'Chitting' away in the potting shed, well spaced and airy on staging in front of the window...

As I enter the garden I am aware of how the weather totally changes the mood of a space. White underfoot, grey swirling freezing fog and dark skies give the garden a gloomy sense of foreboding, five minutes later the sun has finally broken through, the heavy atmosphere immediately lifts and it is not long before the garden reverberates with the joyful voices of innumerable birds.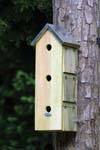 Being a bird lover, next year on my wish list will be one of these really natty bird boxes, better than Christmas TV!

This time of year we get a lot of very small and special visitors to the Kitchen Garden, mixed flocks of many birds flit to and fro and amongst them some very handsome chaps, the Gold Crests. I have had the privilege of meeting these wee fellows many times and have even had to rescue a few upon them straying into the greenhouse and falling foul of spiderwebs! They are as 'bold as brass' and will pleasure you with their company for quite a time. Did you know that some of these tiny creatures migrate from southern Europe? Yes, quite unbelievable I know; in fact, they were at one time called 'Woodies', as it was thought they hitched a ride on the back of Woodcocks!

Encouraging birds into the garden by regular feeding is a really good idea as they are excellent natural predators for many garden nasties and during harsh winter days you will be rewarded with up close views.

Off to the greenhouse which is now clean and snug following a good scrub down and installation of a new heater. It is wise to peruse and choose one to fit your location. If sowing very early, a thermostatic control is a very good idea as temperatures have a massive range early on in the year.

Here at the garden I have already sown a selection of Tomato seed from our new range in one of my favourite propagators. This one has its own small trays which mean I can sow several varieties at once and transfer them as necessary. I will let you know how they progress!

Handy tips: Check your propagators are working correctly before firing them up for the new

season by running them with a thermometer for a day and checking to see if a constant heat is maintained (a min/max reading type of thermometer is ideal for this). Many work by maintaining a certain heat above the ambient temperature of the space in which they are placed. Therefore, you need to ensure a constant background temperature for best results, this again you can check with a thermometer.

Also in residing in the greenhouse is one of the 'Earthboxes' which has been planted up with winter leaves (Mizuna, Pak Choi, Mustard and Chinese Lettuce), that are growing away nicely proving the versatility of this set-up. I was sceptical at first but the Earthbox growing conditions seem to benefit a great many plants - we have already tried Chard which did very well and I look forward to seeing the results of the strawberry trial later this year.

We have had a few changes here in the way of brand new raised beds, some of which are planted-up with more winter greens and others in the process of being filled with specific growing mixes for the new season's crop. These new arrivals mean more varied and controllable growing conditions - good for me as I can continue to improve our rather poor sandy soil on which the garden is situated. I will be fitting hoops and covers over the coming weeks to maximise their growing potential, and will keep you posted.

These harsh conditions of late have provided the perfect testing ground for our varied array of cloches and covers. Not only have they protected against the cold they have acted as an extra deterrent against the mice, pigeons, slugs and snails. You can see Spinach in the Polycarbonate Glazed Cold Frame; this has cropped through the winter and is still going strong.

It's at this time of year that thoughts turn to preparing the soil in readiness for direct sowing and transplanting, and it's also the period when many new or novice gardeners take up a trowel for the first time. There are a great many gardening terms that can seem like a foreign language to the uninitiated; and 'ph levels' is just one! Here's a quick guide to exactly what this means, courtesy of Martin Fiddes, our resident horticulturalist...

Basically, the ph level of a soil reveals if the soil is acidic, neutral or alkaline. The ph scale runs from 1.0 (acid) to 14.0 (alkaline) and as it's very easy to get bogged down in the technical side of soil ph, it's best to remember that most vegetables thrive on a soil which has a ph rating of neutral (ph 7 is chemically correct, but for gardening purposes 6.5 is considered neutral) or slightly acid. If you test your soil ( or try the ph meter we supply – product code GTH-003) and find the readings show your soil is too acidic, you can add garden lime (available from all good garden centres) to bring the level up; alternatively, if the test reveals the ph is high and therefore the soil is too alkaline, you'll need to add sulphur or plenty of fertiliser. It's much rarer that a soil is too alkaline to grow vegetables however.
One simple gardening creed you should remember is that incorporating organic matter into your soil (organic matter is basically compost) is always beneficial, and will greatly improve the soil structure, drainage and ability to retain nutrients.

You can read more from Martin in the Ask the Expert section of the site, where there are plenty of informative answers to common - and some not so - gardening questions and queries.
Me? Well, next month will bring more weather to deal with no doubt (I am preparing myself waiting for the inevitable cold winds, rain and snow) and lots more sowing.