STEPHANIE'S KITCHEN GARDEN UPDATE – APRIL 2010

With plenty of sunshine hours in the bank, April has seen a real surge in growth in Stephanie's Kitchen Garden. The unseasonable but very welcome upturn in weather fortunes has certainly found favour with the sun-loving residents of the greenhouse and my courgettes, aubergines and tomatoes have been galloping away! I'll rein them in with a few hardening off sessions in the cold frame but the fine weather is a double edged sword, with plenty of garden pests donning their shades and making an appearance.

I can't say the increased garden workload is unexpected and that's why I've enlisted some help. In my update for April you'll get to meet my new trainee horticulturist; I'll be explaining how we've both been learning and sharing new techniques; I've introduced a few measures to keep birds off certain crops and we'll have a quick trip round the garden in general. That's in addition to my Chelsea Flower Show news as well...!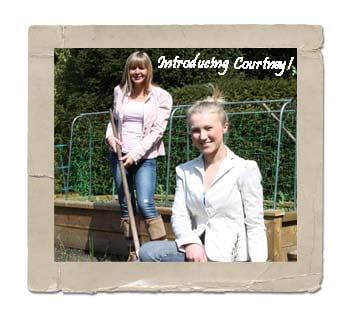 Meet Courtney!
Running a leading mail order gardening supplies business is hard enough but when I've got a Kitchen Garden to keep up to my own high standards as well, it becomes clear that some assistance is required. That's why I'm pleased to introduce you to Courtney, my new Stephanie's Kitchen Garden trainee horticulturist! Courtney will be involved with the garden on an almost daily basis and although we've set out crop plans and planting lists together, she's going to take immediate and sole control of planting, weeding and watering tasks.
She'll also be heavily involved in the testing and trialling of potential new products – an important ancillary role of Stephanie's Kitchen Garden – and already she's provided me with some interesting feedback! What that gives you, the customer, is an assurance that the products in our catalogue and on this site have been tested in a very similar environment to your own garden or allotment and you can partly thank Courtney for that!
I'll still be heavily involved with the inevitable planning and problem solving that any garden throws up and to help me tackle those situations, I've been doing some extra homework...

Learning to Grow!
There are many reasons why people are attracted to gardening. You're outside enjoying the weather and surroundings; you're at one with nature; you're carrying on tasks and traditions which have been practiced for centuries; it's a good form of exercise; it's healthy too and it's also sociable - that's just off the top of my head! One of the most enjoyable aspects for me personally is to learn new things and increase my knowledge; I want to know more about the soil, about the plants I grow, what pests I can expect and generally all things garden.
It's because of those reasons that I'm thoroughly enjoying the six week course Courtney and I signed up for a while ago. Under the tutorage of Belinda Gray, we're covering all manner of horticultural subjects and as well as learning new ways of carrying out garden tasks, I'm find it a fascinating experience sharing the knowledge I already have with the other course participants. We've already discussed – and got some hands-on time with – soil types and conditions, seed varieties and sowing, pests and diseases, harvesting and even some ideas on garden design. I'm picking up loads of new tips which I'll be passing on and Courtney is finding the whole thing extremely worthwhile – I half expect to see her pick up her first RHS Chelsea Flower Show medal this time next year!
For further details of the 'Vegetable Growing Course', held in the Suffolk town of Woodbridge, please contact Belinda Gray at belinda@the-grower.co.uk – and don't forget to tell her you heard about it here!


Chelsea At The Double!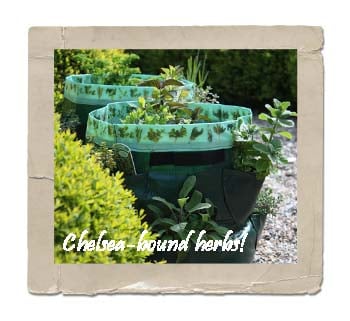 Although their football team had a very successful season (so I'm told!), I'm only interested in one Chelsea – the Royal Horticultural Society's (RHS) Chelsea Flower Sho w. Kicking off on May 25th and running through to the 29th, 2010 sees the 88th show to be held at the prestigious Royal Hospital site and is almost universally regarded as the gardening event of the year, so I'm delighted that Stephanie's Kitchen Garden will have a presence! I'm not planning to transport the entire garden down to London but some of the plants and planters Courtney has been growing and tending recently will be making an appearance on the Harrod Horticultural stand, situated at 38 Pavilion Way.
I'd love to meet as many customers as possible – one of the downsides of a mail order business is that we rarely get to see our patrons face to face – and along with the vegetable, strawberry and herb planters you'll be able to admire a fruit cage, raised beds, Sneeboer tools and many other of our products 'in the flesh'.
But back to the plants we've been raising and Courtney will vouch that growing to a specific date is not an easy skill to master. I've been involved with producing tomatoes for our stand at the show in the past and I've started them off in November – and that's just one batch of many! It takes a lot of skill, a little guesswork and plenty of luck to get the plants in the advanced state required, especially with a limited garden set up like ours. I'll certainly be viewing the spectacular and unbelievably precise displays presented by the 'big boys' with renewed admiration this year!

Prevalent Pests!
As I said at the top of this update, the warm April weather has been a welcome relief after the cold, grey months of winter and early spring. Also pleased to see the sunshine and feel the heat on their backs have been the few million creatures which form the local pest population, aka the enemy! I pride myself on my attention to detail in the battle ground of the greenhouse when it comes to pests, but it was the beady and relatively untrained eye of Courtney which spotted the first imposters of the season; a group of aphids happily hanging around the growing tip of an aubergine plant!
A swift blast from the organic Savona spray I'd mixed up in preparation for the inevitable onslaught did the trick but I'm under no illusions that it's going to be anything than a long, hard summer fighting these sap sucking insects and their rotten little friends!
And it's not just the small end of the pest scale which is proving problematic in Stephanie's Kitchen Garden; I've also got some larger scale intruders making a menace of themselves in the shape of birds, who have decide to start nibbling the sweet corn for the first time in five years! I can't pin down the exact culprit – my garden is an ornithologist's delight – but the tops of the shoots have most definitely been munched, and a beak looks like it's responsible.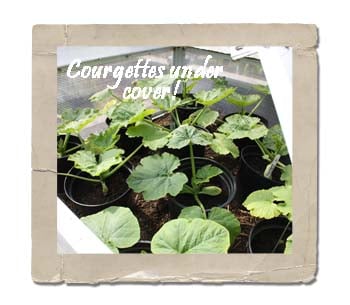 I'm putting it down as one of those quirks of gardening as based on my previous growing experience – and sweet corn has appeared on the crop plan every year since the garden's inception – this crop has gone untouched and I presume unnoticed, and I never had any intention of netting the plants. All that's changed now as I've covered the plants over with the fortress-like Heavy Duty Anti-Bird Netting to prevent any further raids, and Courtney's got a few replacements happily germinating in root trainers.
You live and learn!
Spring is the time to lavish some attention on your lawn and Head Gardener Dave, the conscientious curator of my garden's lawns, has been doing just that. Armed with a scarifier and a lawn rake, he's been busy making an awful – but albeit – temporary mess of the grass, and he's assured me all will be well very soon! "Although a scarified lawn might look a mess to begin with," he says, "it's definitely worth the work in the long term. I'm giving the lawn a good going over with my scarifier to remove the moss, thatch and any other organic matter which prevents the grass from growing, raking it all up and throwing down some top dressing at the same time. I might even take on the challenge of aerating the more compacted and heavily used areas, " the more-green-fingered-than-usual Dave announced.
I've given the industrious Dave a break from his lawn care programme by kindly allowing him to assemble a pyramid cloche-come-cold frame for hardening off purposes in the Kitchen Garden. First guests are the squashes and courgettes which I hope to introduce to the garden proper in mid to late May when frosts are finally – fingers crossed – a thing of the past.
He'll also be shouldering responsibility for the whole garden whilst Courtney and I are helping to man our stand at the Chelsea Flower Show, so I've been giving him a guided tour and telling him what to expect. I hope those pests I was talking about earlier don't try to take advantage!

And on the joint subjects of The Chelsea Flower Show and pests, you'll probably want to take the opportunity to grill our very own pest guru, Julian Ives. He'll be appearing on our stand (38 Pavilion Way, write it down!) from Tuesday through to Thursday and will do his very best to solve any garden pest queries you might have. Don't worry if you're not Chelsea bound however; Julian will still be available to offer suggestions and solutions by e-mail or letter.

Enjoy May in the garden and I hope to see you at a little gardening show in West London!