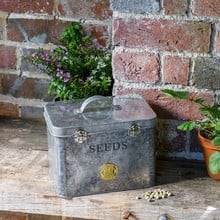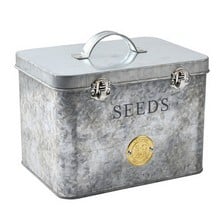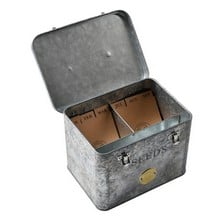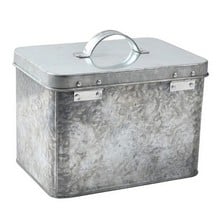 Sophie Conran Galvanized Seed Organiser
£5.95 P&P
Size:
19cm H x 21cm W x 15.5cm D
This stylish galvanized Seed Organiser by Sophie Conran at Burgon and ball is perfect for storing and organising all sizes of seed packets and the metal handle makes it easy to carry around.
Read More
This beautifully designed seed organiser is perfect for collecting, storing and organising seed packets. The metal handle in the lid makes carrying easy, with two strong metal clasps to hold the hinged lid securely shut.
Inside the seed storage tin are three separate compartments to help organise your seeds. One compartment even runs lengthways, giving a home to even the very largest seed packets. Card calendar dividers with the Sophie Conran for Burgon & Ball seal make it easy to sort your seed packets by month.
The galvanized steel of this seed tin picks up on the Modern Rustic interiors trend, with a timeless feel. The understated yet subtly stylish patterns of the metal finish showcase the beauty of the material. A brass seal bearing the Sophie Conran for Burgon & Ball logo on the front of the seed tin adds the finishing touch.
Galvanized Seed Organiser by Sophie Conran at Burgon and Ball
Three seperate compartments
Metal handle in the lid for easy transportation
Two strong metal clasps hold the hinged lid securely shut
Measures 19cm H x 21cm W x 15.5cm D
Would make a lovely gift for a gardener
Be the first to write a review for this product.