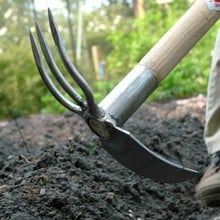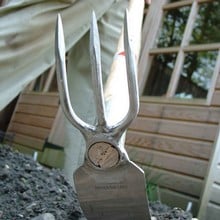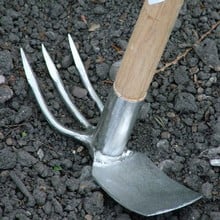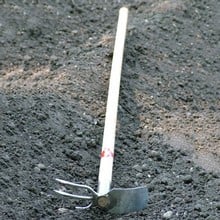 Sneeboer Long Handled Fork and Mattock
£5.95 P&P
Size:
162cm Overall Length
The Sneeboer Long Handled Fork and Mattock is a dual purpose tool is tough enough to cope with almost all soil types and situations and is ideal for breaking up heavy and compacted soil.
Read More
Occasionally the garden requires some heavy work in difficult conditions so the Sneeboer Long Handled Fork and Mattock is perfect for the job; tough enough to cope with almost all soil types and situations.
This ingenious Sneeboer design pairs a robust mattock blade with a sharp, three-tined fork, allowing you to both break up the most compacted soil and create a reasonable tilth - without changing tools. This double-purpose tool gets to grips with cultivating soil and decimating weeds and is particularly good when you need to work between plants.

The fork side of the Sneeboer long handled fork and mattock is great for loosening up compacted soil and the mattock blade can chop away and dig in deeply for weeds as well as making seed drills or thinning out.
Sneeboer Long Handled Fork and Mattock is ideal for breaking up heavy and compacted soil
Measures 162cm overall length
Mattock blade measures 7cm long by 7cm wide
Fork has 3 tines - each is 10cm in length with a 2.5cm gap between each
Solid ash handle is 150cm long, giving you ample opportunity to generate a hefty, soil-busting swing
Steelwork carries a 10 year guarantee
Handle carries a 1 year guarantee
12th February 2018
Nicely made but don't be fooled by the photo the mattock is the size of a trowel, the fork is more use.
27th September 2016
Wish I could have afforded the sneebor tools years ago. The long handle means not having to walk on the veg beds so much. A strong well made tool. Worth the expenditure.
What The Press Say
---
Grow Your Own
2011-11-03
Green Gardener
Featured Product
---
Garden Answers
2nd June 2008
Tested by Laura Fanthorpe, 'Tried and Tested'
I used this digging tool for breaking up the compacted soil in my borders, prior to planting. Its two heads meant I could use the forked side for breaking up clumps of earth, while the mattock made short work of digging the beds. The long handle enabled me to get to the ground beneath my shrubs, which is not so easy to reach with a spade. My only quibble is that I would have liked the blades to have been slightly bigger so that I could have covered a larger area in a shorter amount of time, although this may have impacted on manoevrability." Rating ****.
---