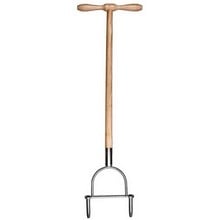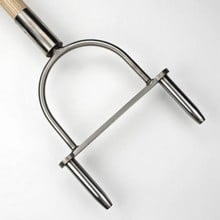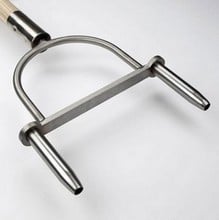 A good looking lawn is the key to your garden's general appearance and you'll be rewarded for a stint with the Sneeboer Lawn Aerator by a glorious green carpet!

Combine innovative design with traditional hand forging methods and the result is a tool to be proud of - and one which helps breath new life into heavily compacted and well-used areas of grass. The two hollow tine aeration spikes - each 11cm (4") deep and 1cm (¼") in diameter - remove a core from the lawn, and this material in turn is expelled when you make the next holes with the 107cm (42") long Sneeboer Lawn Aerator. The 23cm wide crossbar gives the perfect foothold to exert downward pressure and we're confident the Sneeboer Lawn Aerator will meet with both your, and your lawn's approval!
Sneeboer Lawn Aerator measures 107cm (42") overall
2 hollow tines are 10cm (4") deep and 2cm dia. taper to 1cm
23cm wide crossbar allows tines to be easily pushed into soil by foot
Hollow tines remove a core from the lawn creating essential air spaces for grass roots
Perfect for use on heavily used and compacted lawns
Cores are pushed out of top of tines on next use
Head manufactured from stainless steel
Quality ash handle
Aerate between September and May
Cores left on lawn surface break down and add nutrients to soil
6th April 2017
I am a full time gardener. In the past I have avoided the use of a hollow tine as I felt those available were far too short to use comfortably. However, after reading about the Sneeboer hollow tine, I decided to give it a try. I have now used this product on four or five lawns. I have to say I am really impressed. For me there is no bending involved whatsoever. It is effortless to use and the quality is second to none. In the week or so I have used it I reckon I could have sold three or four to people passing by who asked me about it. I would not hesitate to recommend this product. I have read some comments about clearing out the tines. That I am afraid, is unavoidable and very much depends on the nature of the soil. I keep a screwdriver nearby and use that to clear the blockage. What could be easier? This hollow tine is really well made, it is expensive, but you get what you pay for. Thank you Sneeboer!
22nd April 2015
I have just completed aeration of a 100m2 lawn with this tool and have been very pleased with its performance. I opted for Sneeboer because of their reputation for quality and longevity. It has not let me down. The design of the aerator makes it easier to use than the more commonly available 5 tine models. The decision to design it with only 2 tines might in theory mean it will take longer to cover the same area, but it means that the tool is far easier to use and less liable to blockage. The tines are also a decent length, something which would not be possible with a 5 tine model. Predictably, the tines did block very occasionally, but this was no more than once in every 200-300 holes. I am sure that the frequency of blockage will depend on the type of soil - mine is heavy clay. I found that a prod with a garden cane and a squirt of WD40 was enough to get the tines clear again. Despite my lawn being affected by a very stony sub-soil, I was particularly impressed by the fact that the tines suffered no damage whatsoever despite frequent impacts with stones. All in all, I would have no hesitation whatsoever in recommending this product. It made light work of an arduous task, and is clearly built to withstand years of use.
5th April 2015
My lawn is heavy clay and waterlogs easily and is smallish at 50 sq metres. I thought I would make light work of it by buying a more expensive tool. The previous reviewer said that this aerator does not clog because it has tapered tines. Perhaps my soil is just too clayish because the tines clogged very quickly. I used the tool on my lawn when the soil had dried out which is speaking relatively because it takes a very long dry spell for the soil to become completely dry. So the soil was slightly moist when I used the aerator. I now feel I should have just bought a cheaper aerator. Perhaps this tool would not clog up on a lawn with low clay content but I would imagine most people trying to aerate a lawn which can become compacted and waterlogged have a heavy clay-biased soil anyway so I am not particularly impressed with it. Ultimately I am getting the job done slowly but can only completely clear the tines when I flush them with boiling water. I tried WD40 but this didn't help, the tines still clogged. My advice, just get a 'standard' aerator, this expensive tool will do the job no quicker.