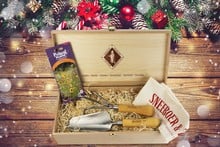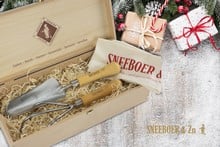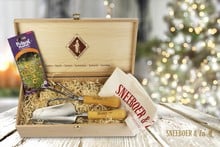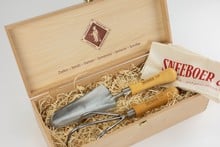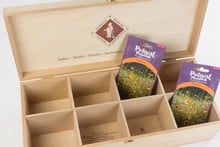 Sneeboer Deluxe Gift Set
£5.95 P&P
In this Deluxe Wooden Sneeboer Gift box you will find a three-pronged Hand Cultivator designed to loosen the soil before planting, a must-have for the beginner or advanced gardener, the Ultimate Flowerbed Trowel that allows for accurate planting and transplanting of young plants and a Sneeboer jute tool bag complete with hanging hook.
Read More
Exclusive Designed &
Made by us in the UK
Long Guarantees
The Sneeboer Deluxe Gift Set comprises a beautiful wooden gift box that transforms into a sectional seed box and is filled with 2 of our bestselling sneeboer hand tools.
In this Deluxe gift box you will find a Hand Cultivator an intrepid three-pronged hand tool designed to loosen the soil before planting a must-have for the beginner or advanced gardener in addition to the now famous Flowerbed Trowel.
If the tools aren't stored in the gift box anymore, with ease the box can be transformed into a seed box. On the bottom of the wooden gift box you will find 4 partitions, just put them together, install and you have a perfect seed box.
Every gardener wants to work with quality tools, and once you have used the Sneeboer ultimate flowerbed trowel - and any Sneeboer Tool for that matter - you won't want to use anything else! Chris Beardshaw has quoted them as the "Maserati" of the tool world.
The Sneeboer Jute Gift Bag is an attractive addition to the gift set, designed to hold these sneeboer hand tools and has a useful drawstring hanging top and features the Sneeboer logo.
Sneeboer Deluxe Wooden Gift Box Set
Contains Hand Cultivator and Flowerbed Trowel with cherrywood handles
Sneeboer Jute tool bag included
Steelwork carries a 10 year guarantee
Wooden handle carries a 1 year guarantee
Transforms into sectional seed box
Please Note the bag of seeds is not included
Be the first to write a review for this product.