Pashley Manor is a quintessential English garden located on the Sussex and Kent border in the heart of South East Englands garden country. Pashley offers a sumptuous blend of romantic landscaping, imaginative plantings and fine old trees, fountains, springs and large ponds.
Opening Times -
1st April to 30th September
Gardens, Café and Gift Shop Open -
Tuesdays, Wednesdays, Thursdays, Saturdays, Bank Holiday Mondays and Special Event days - 11.00am to 5.00pm.
Pashley Manor Gardens - Pashley Rd, Ticehurst, East Sussex, TN5 7HE
http://www.pashleymanorgardens.com/
Telephone: 0044 (0) 1580 200888
Fax: 0044 (0) 1580 200102
Directions -
Pashley Manor Gardens, TN5 7HE, is located on the B2099 between the A21 and Ticehurst Village (tourist brown signed).
Google Maps will tkae you straight there
Harrod Horticultural Products on display at Pashley Manor Gardens -
Roman Arch 1.2 wide / 0.60 deep (to be displayed shortly)
ARC-022
Ogee Arch Fruit Cage
GDN-699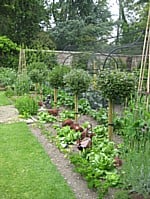 *PLEASE NOTE THAT NO PRODUCTS ARE FOR SALE AT THE GARDEN SHOP