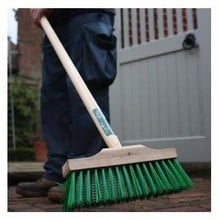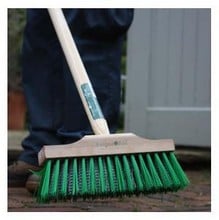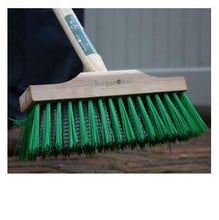 Miracle Patio Cleaning Broom
£5.95 P&P
Size:
160cm L x 30cm W x 10cm D
This doubly effective Miracle Patio Cleaning Broom stands no nonsense from unwanted patio and path moss, lichen and dirt. The secret of this patio sweeping brush with a difference is in the rows of rust resistant galvanised spring steel bristles which give the super patio sweeper a real bite!
Read More
This doubly effective Miracle Patio Cleaning Broom stands no nonsense from unwanted patio and path moss, lichen and dirt; the secret of this patio sweeping broom with a difference is in the rows of rust resistant galvanised spring steel bristles which give the super patio sweeper a real bite!

All the surface moss and debris removed by these metal bristles is efficiently collected by tough but flexible polypropylene bristles which form the 28cm wide sweeping head.
The FSC approved 146cm long wooden handle allows you to put plenty of power into your patio and path cleaning. The Patio Cleaning Brush weighs a mere 1.4kg and the overall measurements come in at 160cm long, 30cm wide and 10cm deep.
Burgon and Ball Miracle Patio Cleaning Broom
Measures 160cm L x 30cm W x 10cm D overall
Bristles form a 28cm wide sweep
Rows of rust resistant galvanised spring steel bristles remove surface moss, lichen and dirt
Tough but flexible polypropylene bristles form the rest of the head
Green polypropylene bristles clear up debris removed by steel ones
Ideal brush for use on patios, paths and all garden hardstanding areas
Much more efficient than a standard hard-bristled broom in damp and shady areas
Made from FSC approved wood
Handle measures 146cm in length
Broom weighs only 1.4kg
16th November 2012
Seems robust and well made,perhaps does not clear moss as well as hoped, but otherwise a good garden broom. It is a nice compromise between traditional heavy brooms and lightweight softer items
4th August 2012
This product is very well-designed and efficient at what it does - just hard work!! Would recommend this and your company willingly. Thank you.
2nd February 2011
I purchased the patio cleaning broom to replace my old broom which I "broke" whilst clearing away snow! I don't like using harsh chemicals for cleaning and was really impressed with the cleaning performance of this broom, which really gets into all the cracks and crevices. You have to brush quite hard for this cleaning effect, but you get a free workout in the process.