Harrod Trellis System Kits
Exclusive New Innovative Design
The Harrod Trellis System Kits, designed and manufactured by us in the UK, are available in a range of sizes, in either narrow or wide spacing styles, perfect for fixing to walls and fences to support your climbing plants.
Read More
Pack Content: Complete Kit
Size: 0.3m to 1.8m
The Harrod Trellis System Kits, designed and manufactured by us in the UK, are available in a range of sizes, in either narrow or wide spacing styles, perfect for fixing to walls and fences to support your climbing plants.
Our unique metal garden trellis design uses steel rods which are secured in place with our innovative nodes. The nodes can be fixed to a wall or fence and secure the rods in place where they intersect. Each node is secured in place with supplied fixings and comes with a cover cap for a discreet finish. The steel trellis framework is made from 8mm diameter steel rods which are powder coated in matt black for a classic and enduring finish. The framework comes with a 10 year structural guarantee.
The kits are available with either narrow or wide spacing between the vertical bars and are supplied in various widths from 0.3m to 1.8m and come complete with all fixings. Narrow Trellis vertical bars are spaced approx. 25-30cm apart depending on the trellis kit size, with the wide trellis kit size the vertical bars are spaced further apart approx. 40-60cm depending on the trellis kit size.
There are also optional brackets available which can be secured to a fence or wall and allows the trellis to be hung in position.
Harrod Trellis System Kits
Designed and manufactured in the UK by us
Features Innovative Nodes for securing the trellis rods in place
Kits supplied with all steel rods and nodes to create the trellis and fixings to secure to wall or fence
Kits use strong 8mm steel rods
Steel rods are powder coated matt black for a long lasting finish
10 year structural framework guarantee
Narrow & Wide kits available
Various size kits from 0.3m wide to 1.8m wide
Narrow kits spacing of vertical rods 25-30cm
Wide kits spacting of vertical rods 40-60cm
Secures to wall and fence
Optional wall/fence fixing brackets also available allowing trellis to be hung in place
If you can't see the size you are looking for we also have a Build Your Own Wall Trellis System.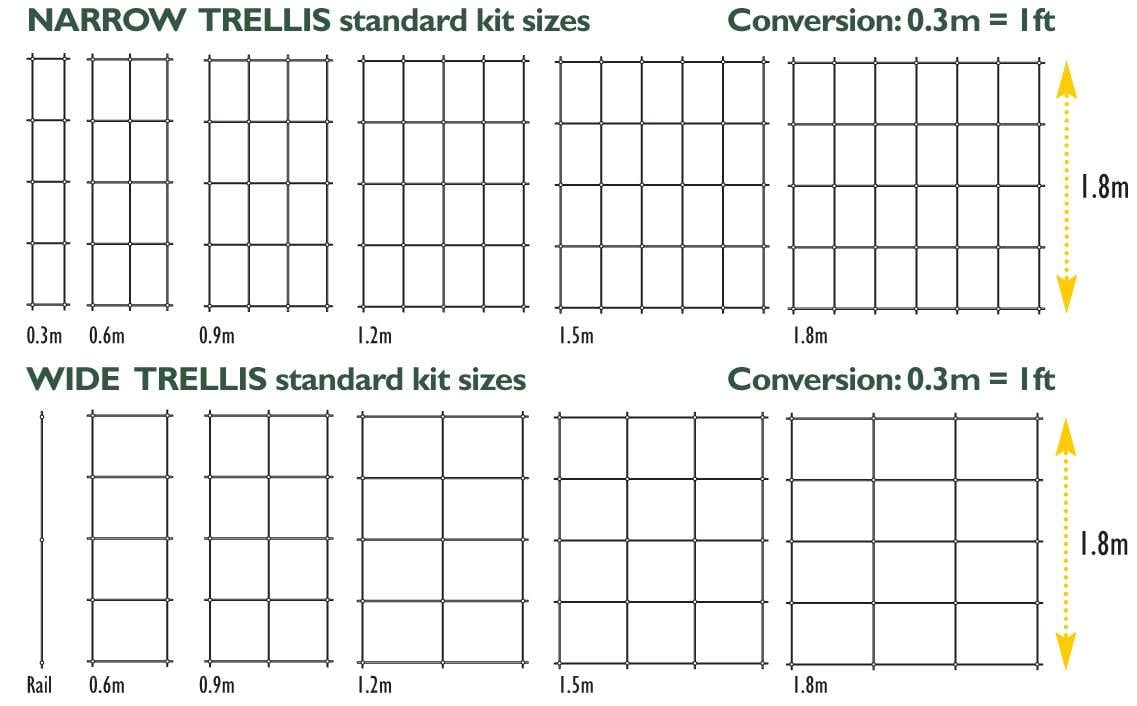 Product Reviews

27th May 2017
We bought this trellis to support a rose on our house wall and are so impressed with it we have ordered another to match! With help from a kind neighbour to drill holes in the wall it was easy to erect, is strong and should last a lot longer than the timber one which collapsed after 2 years!
See Buying Options