Harrod Modern Pergola System
Exclusive Design - 15 Year Structural Guarantee - As Seen At RHS Chelsea Flower Show
The Harrod Modern Pergola System helps you increase the enjoyment of your outdoor space, innovative in both look and design to offer a variety of unique weather protection, expansion and customisable features.
Read More
This product is not available to buy online, for more details please contact us...
The Harrod Modern Pergola System helps you increase the enjoyment of your outdoor space, innovative in both look and design to offer a variety of unique weather protection, expansion and customisable features. Fully adaptable for the garden or terrace to your own style to create a natural extension to your home.
High Quality and Durability
The main framework is made from extruded aluminium square section to provide strong visual aesthetics and structural strength. Corners are crisply defined, joints are neat and uniform and it simply bolts together with stainless steel fixings out of view. Each square section of the framework measures 2.5m x 2.5m and stands 2.4m above ground height.
Integration of optional elements is seamless with mounting parts concealed. All materials are durable with exceptional surface finish and corrosion resistance to last for many years.
15 year structural guarantee.
High temperature powder coated - anthracite grey and matt black colours as standard.
Main framework section 63.5mm x 63.5mm extruded aluminium, 3.25mm wall thickness.
Standard 2.4m above ground height. Supplied with both below ground foot plates to bolt to concrete pad foundation or optional deck mount.
Each sectional unit measures 2.5m x 2.5m square.
5m maximum space between uprights.
Uprights can receive up to 4 horizontals at 90 degree intervals (custom angles can be quoted).
Expansion & Customised Features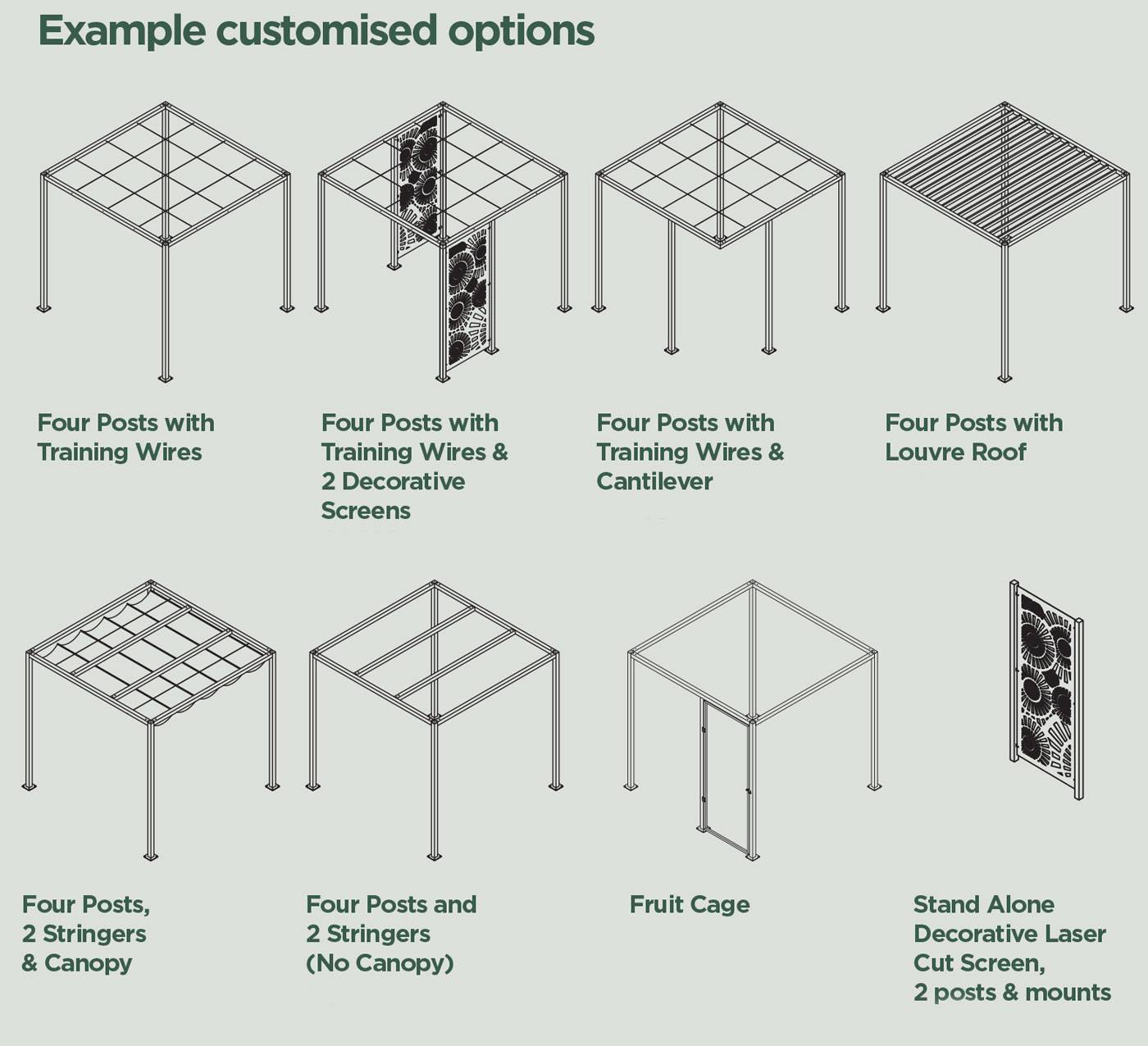 Our modular product design has many integral options that can be perfectly tailored to your requirements.
Extend to make a stunning floral walkway
Cantilever extensions
Laser cut aluminium screens, posts and mounts - standalone or link to make a fence.
Shelter from sun, wind and rain
- Shade privacy louvres
- Polycarbonate shade
- Canvas windbreak panels and roller blinds
- Retractable canvas awnings
Lighting options with internal cabling
Training lattice
Stainless steel plant training wires
Fruit Cage with doors
Custom colours
The Modern Pergola System is Made to Order. For more details and to discuss your requirements please contact our Bespoke Design Team:-
call: 0333 400 1444
email: madetomeasure@harrod.uk.com
Online quote form: www.harrodhorticultural.com/quote