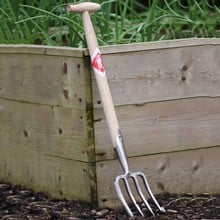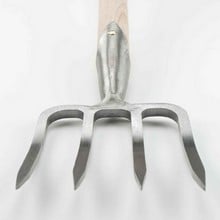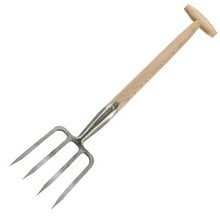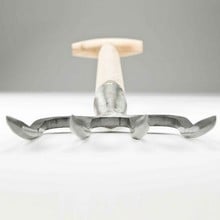 The 59cm long Great Dixter Planting Fork makes cultivating the 'middle ground' of raised beds and weeding in tight spaces much easier, and spells the end of struggling with oversized full length tools and taking an age with hand implements!

Boasting the build quality you'd expect from a full size Sneeboer fork, this planting fork has an 11.5cm wide head - small enough to cruise between closely planted vegetables but wide enough to make light work of turning over soil at the season's end.

Carefully steered by the t-shaped ash handle, the 7mm wide sharpened flat tines slice through soil with ease and the 2.5cm gap between tines is large enough to avoid catching stones - the Great Dixter Fork may be small but it's perfectly formed!
Sneeboer Great Dixter Planting Fork measures 59cm overall
T-shaped ash handle
11.5cm wide stainless steel head
Sharpened 7mm wide tines
Flat Tines are13cm long
2.5cm gap between tines
10 year guarantee on stainless steel
Perfect for raised bed work and tight spaces
Light and easy to use
Steelwork carries a 10 year guarantee
Wooden handle carries a 1 year guarantee
12th April 2019
Once again Sneerboer have triumphed with this great little fork that works perfectly in raised beds, making vegetable growing so much easier.
19th September 2013
Brilliant! After knocking myself about and doing balancing acts climbing INTO the raised bed to dig up or turn the soil I think this is the best thing since sliced bread (rather have crusty but what saying do we have for that!) Might try other 'small' things next season to match 'small' me! Pauline Radley