What a month we have had weather wise. It felt as if we had skipped spring and gone straight into summer. We had the hottest valentine's day in 21 years and on Thursday Kew Gardens recorded 21c. Because of this flowers and plants are growing when they should be dormant. It's lovely to see the bobbing heads of daffodils mingled amongst the snowdrops.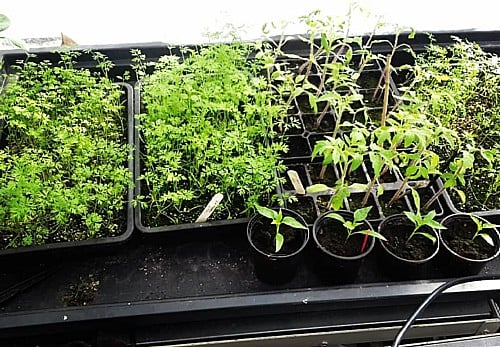 Because of the heat, the seeds I have sown in the greenhouse are bursting into life. The broad beans are now outside during the day to harden off ready to be planted outside in a few weeks. The tomatoes and carrots are out of the nursery propagator and the onions that I planted individually in pots only a month ago are ready to planted out. Other seeds in the heated propagator's are sprouting so I have had to turn the heat down to stop them getting a head of themselves and growing leggy.
The kitchen garden itself has been quiet this month, the remaining leek and celeriac have been harvested so the raised bed and vegetable plot can be dug over. The manure has been left for a month and now, with the weather in my favour, the digging can commence. Never a good idea to dig on a very hot February day but at last it has been done and the Kitchen Garden is now ready for planting.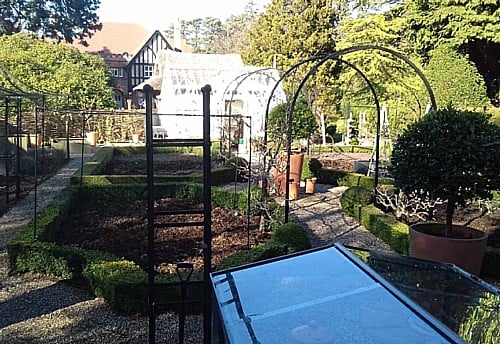 The autumn raspberries have been pruned; some gardeners prune them at other times of the season but I leave then until February. I like to think that it has given them time to rest and recover from last years harvest. Another job I have done is put the walk-in fruit cage roof net back on.
This year I have decided to try companion planting in the kitchen garden. When you first start reading about it, it seems quite simple but then the more you read the more you realise that certain vegetables don't like sharing their space with certain flowers or herbs. It is quite interesting and a challenge which I am going to take on. Watch out for photos throughout the year and, fingers crossed it all goes to plan.
In other areas of the garden the wild flowers have had their annual cut and tidy. The grasses have been raked and then cut back to promote new growth. All old leaves and stems have been removed and the ground has had a light dig over with a hand fork to remove any weeds that can be seen, it would be faster with a hoe but there is a lot of new growth which can't be seen unless you are on your hands and knees.
Jobs for March:
Broad beans moved outside but under cloches so they are ready to planted out.
Continue sowing seeds in the greenhouse
Prune blueberries: they should have a third of their older wood removed.
Cover bare ground with weed suppressant to warm up the ground prior to planting and to prevent weeds from germinating.
Towards the end of March, early potatoes can be planted in the ground.