Dublin Bay Climbing Rose by Peter Beales
£4.95 P&P
Dublin Bay Climbing Rose is a modern climber that flowers in the summer with clusters of medium sized fully double, bright scarlet-crimson flowers.
Read More
Dublin Bay Climbing Rose is a modern climber that flowers in the summer with clusters of medium sized fully double, bright scarlet-crimson flowers.
This beautiful climbing rose has been given the Garden Merit Award and will look stunning climbing over a garden arch or obelisk. Dublin Bay enjoys a sunny position and if left to grow without support will form a lovely large free flowering shrub.
Dublin Bay Climbing Rose from Peter Beales®
Height & Width Range - 2.4m x 1.5m (8' x 5')
Garden Merit Award Winner
Rose Family - Modern Climbers
Introduced in 1976
Large red double blooms
Little or no fragrance
Summer flowering
Supplied in container
Despatch March to September
Supplied in 4 litre containers - roses are approx. 60cm high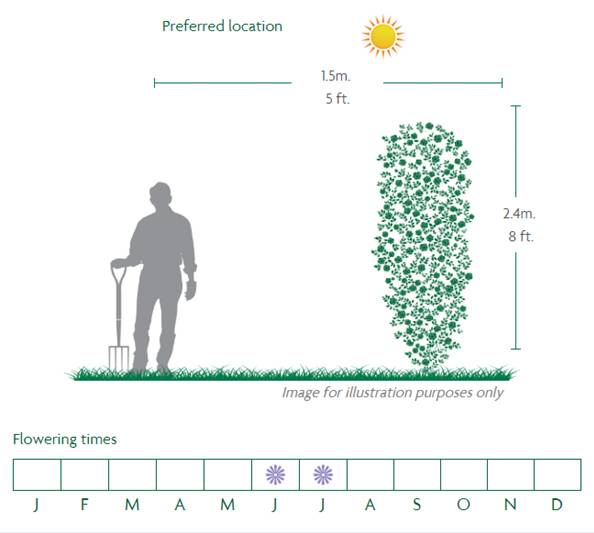 Container roses
Containerised roses are available throughout the year (although there are more available in the summer months for various reasons) and are roses that we have planted into containers during the winter months, when the plants are dormant. If purchasing a container rose early in the year, it is advisable to wait until after June before planting out into the garden. This is to give the roots of newly potted roses a chance to establish. In summer months containerised roses must be watered daily to ensure good health and maximum blooms. The advantage of buying a rose in a pot is that you can select the plant yourself during a visit to our nursery and gardens, giving you the opportunity to see the rose in flower prior to purchasing. Containerised roses are available for delivery within 7-10 days.
How to plant a rose bought in a container
The same depth applies for a rose bought in a container, with the first inch or so of the branches below soil level, and the hole wide enough for the root ball, there is no need to tease the roots out but better to leave the root ball intact. If purchased early in the summer season (before June) it is wise to leave the rose in its pot to give the roots time to establish.