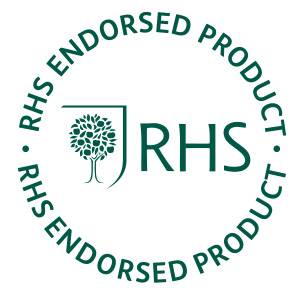 The Burgon and Ball RHS Endorsed Stainless Steel Digging Fork is a super tough fork for cultivating large beds with longer handle to save your back.
FSC ash handle with comfortable 'Y' grip
Extra-long strapped socket – introduces strength and flex at this key joint
Stainless steel head gives rust resistance and clean movement through soil
Heat treated stainless steel tines cope well with compacted soil
Head measures 30cm long x 18cm wide
Overall height 111cm
RHS Endorsed
Lifetime Guarantee
What The Press Say
---
Amateur Gardening
February 2017
'Tried and Tested' Digging Forks
Amateur Gardening 'Best Buy' 15/15 Features ***** Lacquered FSC ash handle, YD grip, double rivets to stop shaft splitting. Shaft is in a stainless steel, strapped socket with heat-treated tines for extra strength. Tested to withstand over 220lb (100kg) of load. Overall length: 42ins (107cm), head width:7ins (18cm), weight 4lb 7oz (2.00kg), lifetime guarantee. Performance ***** Canted head and curved tines require a specific technique to drive it into the ground, but it's an easy action that uses your arms rather than your back. The stainless steel prongs glide in and out of the soil without clogging. Value***** Beautifully made, should last a lifetime.
---