Are Circular Plant Supports Best?
Good Morning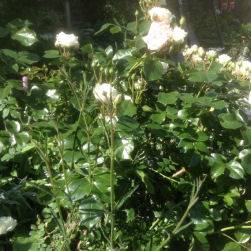 I have just spoken with Amanda at Harrod's as I am unclear regarding your plant supports.
I have attached pictures of the shrub rose that I am wanting to buy a support for, it produces masses of blooms each year and becomes weighted down as a consequence
Would the circular support help, at present its propped up with a spade and fork handle!
If so, which size would you suggest.
Many thanks
Sheila Eburah
Dear Shelia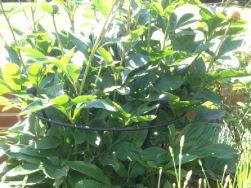 Thank your for your email.
My advice would be to go for the trumpet supports. I am attaching some photos of this type of support in use in the gardens surrounding the kitchen garden.
We use these circular plant supports to support large peonies which are prone to flopping under the weight of the huge, heavy blooms. We use the largest size available which is 90cm high and has a diameter of 60cm.
It usually a good idea to put the plant support in place early in the season, before the plant has put on growth, however with some careful handling you should be able to place it over your rose bush.
I hope this is helpful. Please let me know if I can be of any further assistance.
Kind Regards
Jo