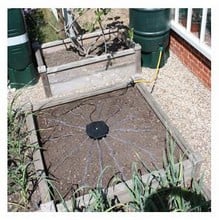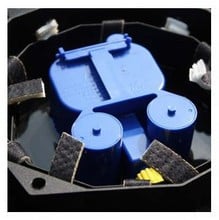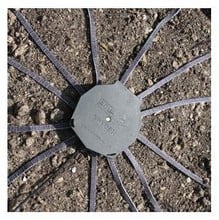 AquaBox Spyder
£4.95 P&P
The AquaBox Spyder Irrigation Kit offers more than eight good reasons why it should creep into your garden and wrap up your raised bed irrigation needs as this arachnid-style kit
Read More
The AquaBox Spyder Irrigation Kit offers more than eight good reasons why it should creep into your garden and wrap up your raised bed irrigation needs as this arachnid-style kit.

Consisting of a main body housing the automatic AQUAvalve, the AquaBox Spyder Irrigation Kit has 12 capillary matting 'legs' which transfer water to the soil at the demand of the plants over a 1.2m² area. There's no mains water supply to worry about; the AquaBox Spyder Irrigation Kit doesn't need a pump and connection to a water butt is quick and easy - you'll also be amazed and impressed to learn that the AquaBox Spyder Irrigation Kit will keep a 4ft square bed watered for a minimum of 2 weeks when connecterd to a 100 litre+ sized water butt.

Each AquaBox Spyder Irrigation Kit contains 2m of irrigation tube, 6m x 25mm diameter capillary matting, which is simply cut to size, and a connector with filter whilst the Extension Kit, which irrigates a further 1.2m2, helps increase the watering capacity.
AquaBox Spyder Irrigation Kit uses the AQUAbox valve to ensure constant water availability
Each kit waters an area measuring 1.2m²
Connect to a 100 litre water butt or larger for a minimum 14 day watering
Maintenance free - just keep water butt topped up
Capillary matting legs distribute water according to plant needs
Simple to install
Integral spirit level in lid to ensure level placement
Main box measures 19.5cm and sits in centre of bed
Comes complete with irrigation tube and filter connector
Perfect for vegetable raised beds
Change matting every season
Ideal for holiday watering - just fill up water butt and go!
Efficient and economic as reacts to watering requirements of plants
Water arrives directly at plant roots
Encourages extra plant root growth
Use a Pressure Reducer to run the kit off a mains tap
Be the first to write a review for this product.