Agastache Blue Fortune
£9.95 P&P
Agastache Blue Fortune, also known as Anise hyssop, is an attractive herbaceous perennial which produces purplish-blue flowers which have a aniseed scent
Read More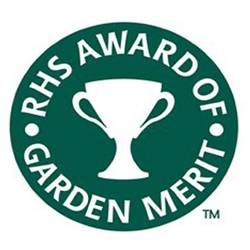 Agastache Blue Fortune, also known as Anise hyssop, is an attractive herbaceous perennial which produces purplish-blue flowers which have a aniseed scent.
This is an excellent variery of Agastache and is a great wildlife plant providing nectar and pollen for insects. Originating from North America this erect, leaft perennial has ovate-lance-shaped, veined leaves, 5-8cm (2-3in) long, downy and whitish-green beneath.
The plant will look fantastic in herbaceous borders growing to a height of 1.5m (5ft) with a spread of 30cm (1ft). Ideal for the UK climate this hardy plant can withstand temperatures down to -20°C (-4°F).
Buy set of 3 plants for great savings!
Agastache Fortune Blue - attractive herbaceous perennial
Available as single plants or sets of 3 plants
RHS Award of Garden Merit
Prefers full sun and a fertile, well-drained soil
Wildlife plant - nectar and pollen for insects
Originates from North America
Hardy in all of UK and northern Europe can withstand temperatures down to -20°C (-4°F)
Height - 90 - 150cm (3-5ft)
Spread - 30cm (12in)
Flowers July-August
Aniseed scented foliage
Supplied in 1.5-2 Litre pots
Please allow up to 14 days for delivery