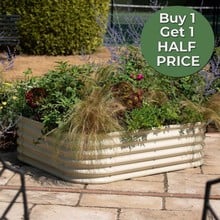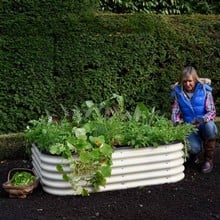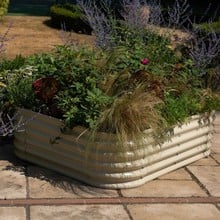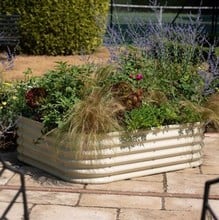 4-in-1 Modular Metal Raised Bed
£9.95 P&P
The 4-in-1 Modular Metal Raised Bed is a versatile planting solution and a great way to grow your own, the steel raised bed can be arranged in a standard, square, rectangle or narrow shape to suit your garden or plot
Read More
Availability: Out of Stock
Due back in: 22nd July
3 Working
day despatch
The 4-in-1 Modular Metal Raised Bed is a versatile planting solution and a great way to grow your own, the steel raised bed can be arranged in a standard, square, rectangle or narrow shape to suit your garden or plot.
This exclusive metal raised bed is manufactured from long lasting, quality, galvanised steel (0.6mm thick) which is powder coated cream for a long lasting, weatherproof finish. The rolled steel edges have a clip on rubber safety strip and the raised bed comes with stainless steel bolt fixings for maximum strength and durability.
The raised bed measures 40cm high, the ideal depth for most fruit and vegetables, and can be arranged into 4 configurations to fit your garden space.
Standard - 1.44m x 1.2m
Square - 0.99m x 0.99m
Rectangle - 1.65m x 0.9m
Narrow - 2.1m x 0.54m
This stylish raised bed will be a popular addition to your garden, giving you an attractive raised planter to grow your own fruit and vegetables in the garden, on the patio or on the allotment.
Exclusive to Harrod Horticultural
Galvanised steel panels 0.6mm thick
Powder coated cream for long lasting finish
Strong stainless steel fixings
40cm high
Rolled steel edges with clip on rubber safety strip
4 configurations
The raised bed is not supplied with a base
Supplied as a kit for self assembly
14th October 2018
Easy to put together brings back memories of my childhood toy meccano set (even girls can have these!), sheets of metal and lots of nuts, bolts & washers. looks great when finished but the rubber strip that is needed was not a good fit but overall looks great and makes the bottom of my garden look neat and tidy the first time in years looking forward to planting next year, would recommend this item
5th October 2018
Look great & quality is fantastic. Very easy to put together too.
23rd June 2018
I found this very easy to assemble and it feels very solid & well made. Noting the previous criticisms of the rubber strip I admit it does feel loose. However when I put the bed in it's final position I think a couple of dabs of "no more nails" or similar product will resolve this (very minor) issue.