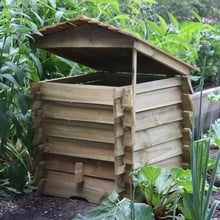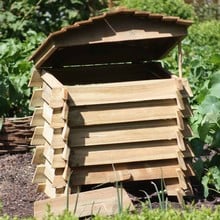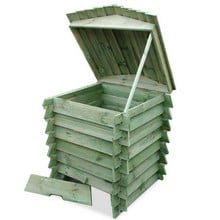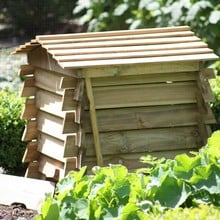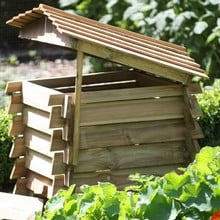 328L Beehive Composter
£5.95 P&P
Size:
90cm H x 76cm W x 74cm D
The Wooden Beehive Style Composter is an attractive alternative to traditional compost bins, but still provides an efficient composting solution. Made from FSC wood in a natural finish which can easily be overpainted
Read More
Traditionally, the composting area in a garden has been hidden away - a secret world tucked out of sight at the end of the vegetable patch; but there's no need to hide away the 328L Beehive Composter.
Attractive and efficient at housing decomposing material, the composter can be positioned adjacent to your beds or borders without aesthetically compromising your garden vista. A hinged lid keeps out rain and helps insulate your fermenting compost and the bottom panel is removable to allow for easy collection of rotted material.
Measures 74cm/29" D x 76cm/30" W x 90cm/35.5" H
Made from FSC accredited softwood
Supplied in a natural finish
Can be overpainted
Pressure treated wood
Hinged lid and support bar for easy access and filling
Removable bottom panel for collection of mature compost
Sits directly on soil to encourage earthworms and beneficial organisms
Self Assembly Required
22nd June 2015
This composter looks good and is well made and easy to assemble. I can't comment yet on the effectiveness of its composting. Delivery was quick and efficient as usual from Harrod Horticultural.
18th July 2014
Great customer service and quick deliveries. I would thoroughly recommend Harrod Horticultural and their products. My lovely 'beehive' compost bin has been admired and sits nicely in my meadow area.
What can go in to a conventional bin and how does it all work?
Success depends on heat, biology and a good balance of ingredients, added in approximately 10cm. layers. 'Green' waste (grass, border and hedge trimmings, snipped or shredded woody prunings) heats up steamily, starts to break down rapidly and can be stirred into layers below to speed everything up. 'Brown' waste (e.g. shredded paper, packaging and straw) should be added at regular intervals to counteract the wetness of the greenery and will rot down too. Manure from herbivores (chickens, pet rabbits) adds zest to the whole mixture, as does the odd spadeful
of soil.
Autumn leaves are best composted on their own in hessian bags or cages, since they rot down more slowly and in a different way.
What shouldn't go in?
Moss (which refuses to rot and can therefore be unwittingly spread around)
Seeding weeds or garden thugs (i.e. Verbascums, Fennel) Roots of perennial weeds such as ground elder and bindweed – unless they are thoroughly dried off in the sun first. Cat and dog (i.e. carnivore) manure. Meat or cheese kitchen scraps or vegetable waste that has been contaminated by them.
Common problems
Too dry? Water the heap and/or add more greenery and cover it tightly to keep the heat in.
Smelly? Add more 'brown' ingredients, but no grass clippings or kitchen waste for a while. Stir the contents to open it up. Leave the lid off.
Rats? This is a tricky one - they may try to move in if there is a regular source of food nearby (i.e. a bird table or poultry house).
Slugs and snails? No problem. They are doing their bit for the composting process, and at least it keeps them away from your lettuces and hostas.