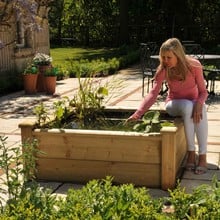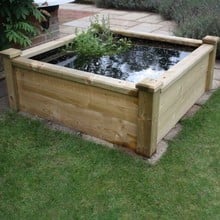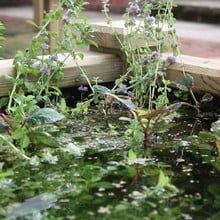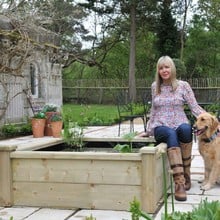 Wooden Raised Bed Pond Kit (1.2m x 1.2m)
£14.95 P&P
Our Wooden Raised Bed Ponds are ideal for an instant and long-lasting garden pond which looks great in the garden or on the patio or decking, easy and quick to assemble - it really is a case of just add water.
Read More
Exclusive Designed &
Made by us in the UK
Our Raised Pond Kits, based on our popular Superior Wooden Raised Beds, allow you to create an instant garden pond, which looks great in the garden or on the patio or deck – really quick and easy to assemble, all you have to do is add water!
Available in one size only 1.2m x 1.2m (4ft square), each 40cm deep raised bed pond has chunky 10cm (4") corner posts, 3.5cm (1¼") thick Scandinavian softwood planed planks for a quality finish, 10cm (4") wide capping to sit on and admire your fish, extra corner reinforcement and a thick pond liner which carries a 5 year guarantee.
These unique ponds will bring life to gardens of all sizes and are particularly popular on decking and patios, where the sound and sight of a water feature or pond is very appealing.
4 year Guarantee
Measurements refer to outside of planks the posts make the pond kits slightly larger
Measures 1.2m x 1.2m (4ft square)
All sizes are 40cm deep
Based on our renowned Superior Timber Raised Bed design
Ponds feature reassuringly thick 10cm (4") corner posts
Planed 3.5cm (1¼") thick planks
Manufactured from Scandinavian softwood sourced from sustainable forests
Chunky 10cm (4") wide capping lines edges to form a comfortable fish-viewing seat
UV stabilised heavy duty pond liner has 5 year guarantee
Reinforced corner sections for extra strength
Quick and easy to assemble
Ideal for patio and decking areas
No excavation or back breaking ground preparation work
Ideal for keeping fish or as a water feature
Improved accessibility for those less mobile
Use a solar powered pump oxygenator to keep water clear
Self Assembly required - full instructions included
When positioning your Raised Bed Pond, please ensure the area is level and clear of stones and other sharp objects.
17th July 2017
The kit was delivered promptly in 5 bundles and a sack, all easy to carry. The parts fitted neatly, all the timbers were accurately cut to length. NB there are a lot of screws and coach bolts so an electric screwdriver and socket spanner are pretty well essential. The finished pond looks very neat and I am very pleased with it.
12th December 2012
Rasied bed pond kit excellent. Didn't even have grumbles from my husband when he put it together it was so easy and it looks brilliant. Mrs Groves
24th September 2012
Arrived promptly,bought at a discount, the quality of the components is first class. I have not yet assembled it, but I am confident that it will be all that I wanted. Even without water, I suspect that you will need two people to move it once built, such are the dimensions of the wood incorporated in it.
What The Press Say
---
Dream Gardens
February 2020
Wet 'N' Wild -
Do you always want water in your garden but don't have the space or the time to care for a traditional garden pond? How about incorporating a very simple freestanding patio pond? - Wooden Raised Pond Kit from Harrod Horticultural.
---