Wire Roman Arch 1 metre deep - Bespoke Design
£0 P&P
This Vintage Garden Arch has a Natural Finish and a bespoke depth of 1 metre, supplied in degreased plain steel which quickly develops an even rust coating and comes with a reassuring 10 year guarantee.
Read More
3 Working
day despatch
This Vintage Garden Arch has a Natural Finish and a bespoke depth of 1 metre, supplied in degreased plain steel which quickly develops an even rust coating and comes with a reassuring 10 year guarantee.
Harrod Vintage Wire Arches are a real hallmark of our UK manufacturing excellence, constructed using high strength 12mm thick solid steel for the uprights and curved rails, and 10mm diameter for the cross linked horizontals.
If you are planning to fit your garden arch into open ground we do recommend securing the arches with the substantial galvanised floor fixing pins which are available separately. These are supplied as a 4 pack for each arch and secure through the fixing plates and into the ground by 40cm/16". For extra rigidity, set the fixing plates and pins in concrete with the base of the arch approx. 50mm below the surface.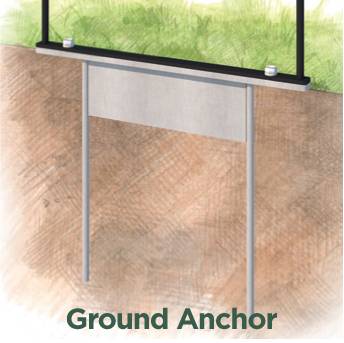 For particularly soft ground conditions such as soil or turf, we advise using our optional ground anchors, supplied as a pack of 2 anchors for 1 arch these are inserted into the ground and the arch fixing plate can then be secured to the anchor. The ground anchor provides substantial rigidty and inserts 40cm into the ground. Please note, when buying the ground anchor you do not require floor fixing pins as well.
Designed & Manufactured in the UK
Solid steel rod framework - 12mm for uprights and curved rails / 10mm for linking horizontal bars
Degreased steel rods quickly develop an even rust coating
Also available Vintage Wire Arch in Matt Black finish
10 Year Structural Guarantee
Supplied in 4 fully welded sections
Connected using precision turned solid steel joiners which lock the sections in place with stainless steel screws
Galvanised floor fixing pins available separately (ARC-302) - 4 pack per arch
For extra rigidity set fixing plates and pins in concrete
Optional Ground Anchors (ARC-480) available separately - supplied as pack of 2 for 1 arch
It is possible to screw through the integral fixing plates into decking, sleepers, concrete or paving using appropriate fixings - available from all good hardware stores.
MADE TO MEASURE!
We are here to help with all Garden Projects and can offer a complete Made to Measure Service if you can't see the ideal size for your garden.
Visit our Made to Measure page for more information and to complete our easy online Made to Measure Quotation Form
Harrod Wire Roman Arches are also available in standard sizes.