Tumbleweed Compost Tumbler
Spin the 220 litre Tumbleweed Compost Tumbler every two days and the unique tumble action will promote rapid decomposition and compost in just 4 weeks
Read More
Pack Content: single item
Size: 100cm H x 65cm W x 85cm D
Product Code: GCO-459
Rating:
Add kitchen and grass waste to the 220 litre Tumbleweed Compost Tumbler, effortlessly spin every two days and the unique tumble action will promote rapid decomposition and compost in just 4 weeks - no forking, turning or lifting. It's the patented centrally mounted stainless steel breaker bar in the UV treated polypropylene bin that is key for ensuring a speedy and odourless aeration process whilst the galvanised steel legs stabilise the whole assembly.
Complete with full instructions for easy assembly
Assembled height of 117cms
Composter dimensions: 100cm H x 65cm W x 85cm D
220 litre capacity
5 year guarantee
Weighs 10kg empty
Product Reviews

14th June 2017
Rotating composter seems good, but compost not yet ready.
17th March 2017
Satisfied so far, just started to use it.
27th October 2016
Great idea. I bought one two years ago. Sadly I have not had a lot of success in producing well rotted, even crumble compost despite trying several different ingredient mixes. Now my tumbler has developed several splits around the lugs securing the lids. Only a matter of time before they meet up and the unit becomes unusable.
Many thanks for your feedback this has been passed onto the relevent dept. and a member of our customer service team will be in touch.
See Buying Options
220 Litre Compost Tumbler
Why fork when you can tumble is the strapline for the 220 Litre Compost Tumbler - and here's a few reasons why this particular composter could be an asset to your home composting set-up...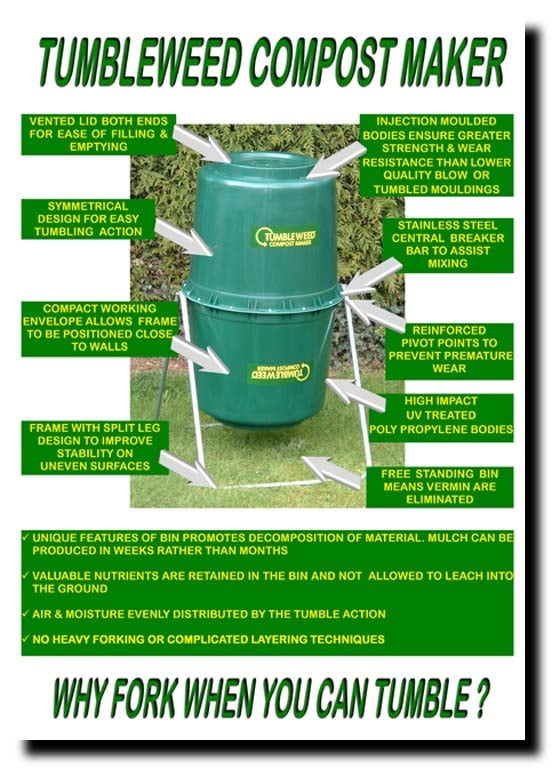 What The Press Say
BBC Gardeners World
December 2016
Tools and kit - There are now lots of time-saving versions of regular gardening kit, available online or from your local nursery of garden centre. Speed up the basics with my pick of must-have tools and essentials.
Tumbleweed Spinning Composter - I have one of these - it works well and is ideal for a small garden. Rather than spend hours turning the heap, you spin the drum occasionally to keep the composting process going.
Grow Your Own
November 2013
Pick of the Crop
Make turning your compost extra-easy. This bin's sturdy stand means it can be tumbled round and round, speeding up the composting process. Just fill it with grass clippings, shredded garden pruning's and other suitable waste then turn it every two to three days. The bin has a 220 litre capacity.
See Buying Options