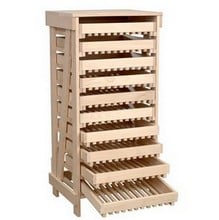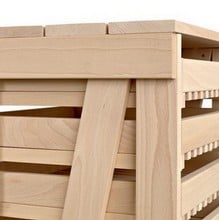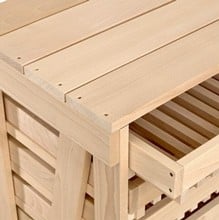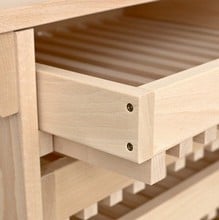 The chances are you won't be able to consume all your apple crop at harvest time, so storage becomes of premier importance and this Traditional Apple Rack offers a top class solution.

Manufactured from beech, a pale hardwood easily worked to create the robust frame and removable shelves and designed to allow maximum airflow around the stored fruit.
Manufactured from quality beech wood
Measures 58cm W x 47cm D x 122cm H
Trays removed individually
Place racks in a dark, well ventilated cellar, shed or garage with a moist atmosphere
Aim to keep temperature at between 3-7°C (37-45°F) but not below

This product is exempt from any promotions
11th September 2016
This came in two large heavy packages, a bit too heavy for one small person to move but anything is possible by walking it from side to side and using a good 2 wheeled barrow. It is superb, very well designed and built to last. It far exceeded my expectations. I am looking forward to october, when I will start to fill it
Congratulations Maria, you are this months lucky competition winner. Your Harrod Gift Voucher is now on its way to you.
14th August 2012
Excellent product - well made, ready to use and good quality. Shame I probably won't be able to use it to its full capacity this year as the 2012 crop is the worst ever! I shall look forward to filling it in 2013.
Our horticulturist Martin Fiddes says; "When storing apples, wrap the fruit in newspaper to protect skins and keep them from touching as any rots which develop can quickly spread through points of contact. The moulded paper fruit containers you find in greengrocers are ideal and this shelf system is equally adept at storing the fruit.

"To successfully store apples, you need to provide them with cool (typically 3-5°C) conditions which remain frost free and don't exceed around 7°C. Fluctuations in temperature are decidedly unhelpful, your chosen location should also be dark with some air circulation and watch out for rats and mice!

"These kind of conditions are often provided by garages, sheds and even a cellar if you have one but the house (including lofts and attics) is often too warm. Store away from strong smelling substances (such as paint) along with vegetables like garlic and onions.

"You'll need to visit your stored crop almost daily to check on any problems. Any overripe fruit or apples showing any sign of rotting should be removed immediately or the potential is there for ruining the whole crop!"
What The Press Say
---
Grow You Own
2013-10-08
Pick of The Crop
Extra easy storage! Keep your autumn fruit glut in this stunning 10-level rack throughout the winter months. Made from solid wood, its slatted, sliding drawers allow air to circulate around your home-grown apples.
---
Grow Your Own
6th October 2010
Pick Of The Crop - Storage
"The chances are - if all's gone well - you won't be able to munch through your entire apple harvest in one go. This hardwood rack is designed to allow maximum airflow around stored fruits - essential to maintain quality and flavour. Position it in a dark well-ventilated area with a moist atmosphere and keep the temperature around 3-7°C. Choose from a six or 10-drawer version."
---