Ease of Growing [Scale 1-5] : 2 (Easy/Medium)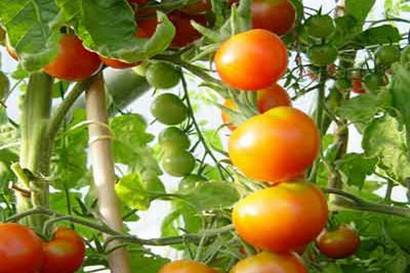 How Time Consuming
Tomatoes need daily watering, weekly feeding, pinching out side shoots and tieing in to obtain the best of crops.
Recommended Varieties
'Gardener's Delight' – An organic variety of this old favourite, sweet and abundant.
'Moneymaker' this popular organic heavy cropper produces stacks of fine flavoured medium sized fruit.
'Golden Sweet' - Lovely, sweet tasting, orange colour, cherry tomatoes.
'Alexandros' F1 organic variety with beefsteak-sized fruits. Capable of producing 8-10 toms per truss, has a vine-growing habit and will need substantial support - but the whopping fruits will be worth the effort!
'Tumbler' – for hanging baskets.
'Pomodoro' – Italian plum tomato.
Home Grown Vs Supermarket
Home grown will always have more flavour as the fruit have ripened on the vine, unlike supermarket varieties that are often harvested un-ripened. There are so many shapes, colours and different varieties out there to grow supermarkets are only interested in uniformity and shelf-life and will never offer the different varieties available to today's kitchen gardener.
Best Sites and Soils
Undercover - Greenhouse, conservatory and tomatoes grown behind polythene will ripen earlier due to the extra warmth.
Outside - Hanging Baskets, against the wall or shed or even in window boxes. Fertile soil is also vital. Tomatoes do well in Growbags (doubled up even better!) or large containers of multipurpose potting compost. Remember to renew the soil yearly to avoid the build up of pests and diseases. They can be grown in the ground provided that the soil has been enriched with well-rotted manure and crop rotation is practiced to avoid build up of pests and diseases.
When to sow
Sow seeds in early Spring for outdoor crops and late winter (Jan/Feb) for growing in an unheated greenhouse.
When to plant
Young tomato plants will be ready to be transplanted when they are 15-23cm tall and the first flowers have started to appear. In a heated greenhouse (18C/64F) plants can be planted as early as mid February, in an unheated covered environment mid-spring or if placing your planters on patios wait until early summer or as soon as the weather warms up. Tomato plants are sensitive to frost so should only be planted outside once all risk of frost has passed.
Distance between plants - Plant two or three tomato plants in grow-bags, large hanging baskets or window boxes (depending on variety). If using the Harrod Tomato Success Kit two tomato plants are recommended. If planting in ground allow 45cm (18") distance apart.
When to harvest - Harvest when ripe – usually between 15-17 weeks depending on variety chosen and amount of sunshine.