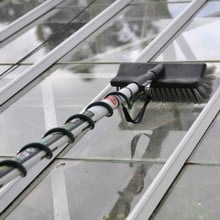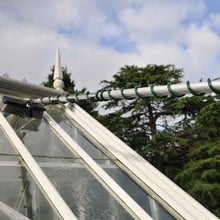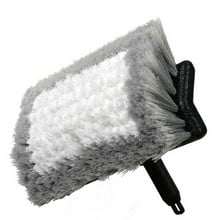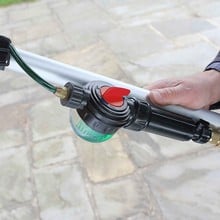 The Swop top soft cleaning brush has a soft brush but with side bristles and a triple surface face for maximum cleaning coverage, the bristles on the sides and edges making it easy to clean hard to reach areas.
Spiral flow hosepipe will take water to the top of any "Swop Top" telescopic poles and has an on/off valve at the base. It wraps around the outside of the pole for leak-free operation and is held in place with two velcro straps.
Used in conjunction with the Spiralflow Hosepipe, the Swop Top Soap dispenser allows for the use of 100ml liquid or powder detergent to clean windows, conservatories, soffit boards and gutters.
Swop Top Soft cleaning brush has a triple surface face
Ideal for cleaning hard to reach areas
Designed for cleaning conservatoy & greenhouse windows and roofs
Swap Top extendable telescopic pole extends from 1.8m to 5m
Spiral flow hosepipe extends to 5m
The Swop Top Soap and Fertiliser Dispenser allows for use of liquid and powder detergents
Swop Top Spiral Flow Hosepipe has an on/off valve at base and wraps around outside of pole for leak free operation
But the Complete Set of 4 items for £72.80 and Save £5!
Using your Swop Top Cleaning System
First remove the valve at the base of the Spiralfow and screw on the Soap Dispenser. The base of the Soap Dispenser has a male connector which is compatible with most popular hose fittings.
The black tap will turn the water on and off whilst the red selector opens up the soap compartment to fill and also alternates the flow between plain water or water with soap.
With the selector on water, turn on the black tap and thoroughly wet the area to be cleaned, then then the selector to soap for a very limited period.
As soon as enough soap is visible, stop the water flow and spread the soap around the area to clean. Having turned the selector back to water, turn the black tap on again and rinse.