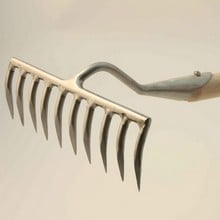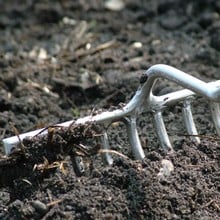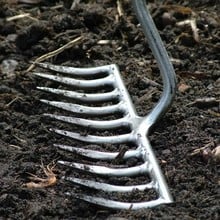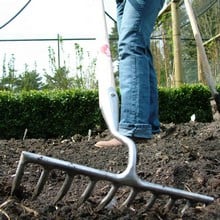 Sneeboer Narrow Tine Rake - 10 Tine
£5.95 P&P
Size:
170cm Overall Length
Remove stones and other unwanted debris from seed beds with the Sneeboer Narrow Tine Rake which, with a 24cm wide head supporting 10 sharp tines, will soon become a firm favourite in the potting shed!
Read More
Remove stones and other unwanted debris from seed beds with the Sneeboer Narrow Tine Rake which, with a 24cm wide head supporting 10 sharp tines, will soon become a firm favourite in the potting shed!
The usual high quality Sneeboer Ash handle measures an impressive 1.47m in length- gaining approval from your back! - and the sharp 6cm long tines are only 2.5cm apart, allowing the rake (1.7m in length overall) to collect the vast majority of stones on each pass.
Throw in the hand forging and care and attention synonymous with the Sneeboer name, and you've got yourself a rake for life!
Sneeboer Narrow Tine Rake is 1.7m in length overall
24cm wide head
10 sharp tines
Ash handle measures 1.47m in length
Tines are 6cm long
2.5cm gap between tines
Fine raking version of the Sneeboer rake
Ideal for seed beds and fine soil preparation
Long handle makes for easy raking
Steelwork carries a 10 year guarantee
Handle carries a 1 year guarantee
7th April 2014
This rake is so light and easy to handle. Best ever!
What The Press Say
---
Grow Your Own
2011-11-03
Green Gardener
Featured Product
---