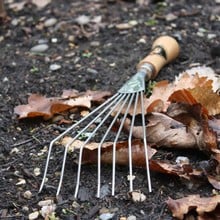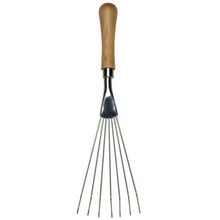 Boasting seven stainless steel tines and a cherry wood handle, this Sneeboer Hand Rake will see you through plenty of leaf clearing autumn autumn seasons; and it's not only fallen leaves this tidy little rake is useful for as you can add soil aerating and light cultivating to its CV too!

The 12cm wide head stainless steel head carries a 5 year guarantee but such is the level of manufacture by Dutch tool-making masters Sneeboer, it will last considerably longer - as will the FSC sourced, 12cm long cherry wood handle.

Perfectly designed for scurrying around in tightly planted borders and beds and creeping carefully through rows of vegetables, the Sneeboer Hand Rake will be one of the first tools you reach for when there's any clearing up to do!
Sneeboer Hand Rake has 7 stainless steel tines
12cm wide head
FSC sourced cherry wood handle measures 12cm L
39cm long overall
Ideal for close work
Use in densely planted borders and vegetable beds
Steelwork carries a 10 year guarantee
Handle carries a 1 year guarantee
23rd February 2015
Very well designed little hand rake for surface leaf removal and jobs like scratching feed applied to the surface without excessive disruption. I help maintain several Japanese gardens and this rake has largely replaced small bamboo "whisks" for general use, although the latter are still used to remove leaves from delicate moss coated surfaces. Works very well at removing leaves from under pruned bushes and out of foliage of tightly clipped box.