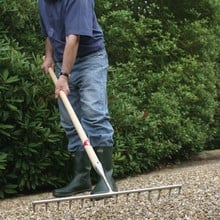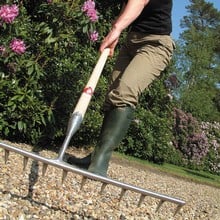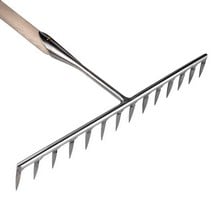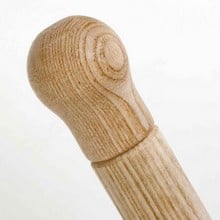 Make your gravel driveway or garden paths the envy of the neighbours with the Sneeboer Gravel Rake; boasting a motorway wide 55cm head and 14 sharpened stainless steel teeth, this rake will leave your gravel as flat as a carpet.
The gravel rake may have teeth like a shark but it's no beast to use as the 155cm solid ash handle allows you to draw the rake through gravel of all aggregates with little effort, and certainly puts less strain on your back than smaller sized rakes.
The extra wide head and shorter spikes of the Sneeboer Gravel Rake are handed forged in Holland from the finest stainless steel in traditional Sneeboer fashion and this is one rake which will stay in vogue for years to come.
Sneeboer Gravel Rake head measures 55cm wide
14 sharpened spikes
155cm solid ash handle
Gravel rake measures 168cm overall
Tines are 4.5cm deep
3.5cm gap between tines
Ideal for raking gravel driveways and paths
Levels small aggregate stones
Stainless steel head
Steelwork carries a 10 year guarantee
Handle carries a 1 year guarantee
7th September 2016
I am looking forward to using this. It was very carefully packaged, so no one could be inadvertently hurt by the sharp tines.
What The Press Say
---
Grow Your Own
2011-11-03
Green Gardener
Featured Products
---