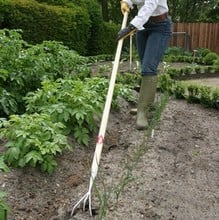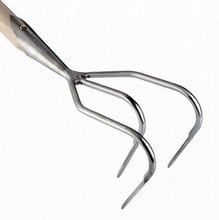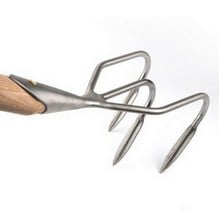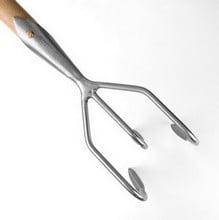 This long handled Sneeboer 3 tine cultivator with three hand forged blades makes light work of breaking up soil. Ideal to use before planting or sowing or when soil gets really compacted.
A cultivator is a tined tool designed to be drawn through the soil towards the user, the angled tines making the pulling motion that much easier.
The purpose of the cultivator is to loosen the top few centimetres of the soil, thus improving its texture and uprooting small weeds. it can therefore be used in an existing bed, between the rows in a vegetable garden or during the process of preparing a tilth. It is also the perfect tool for incorporating fertilizer granules into the soil.
Total length 172cm
Ash Handle measures 155cm
Stainless Steel 3 tine head measures across the width 11.5cm
Steelwork carries a 10 year guarantee
Handle carries a 1 year guarantee
14th June 2017
You delivered a useful high quality tool to my mother-in-law.