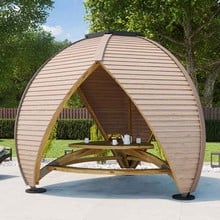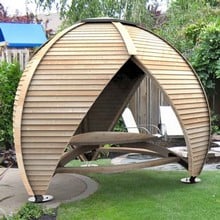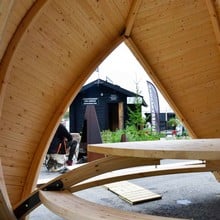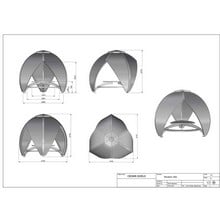 Shield Gazebo
£19.95 P&P
Size:
building 3.1m x 3.1m, Overall Height 2.8m
Shield from the sun in our stylish new gazebo garden shelter, a completely new concept in an outdoor seating area and picnic pod. There is a 1475 x 1480 mm table in the centre and enough seating to comfortably seat up to 6 people.
Read More
The Shield Gazebo is a small wooden garden pod designed for spending time with family and friends with shelter from inclement weather. The gazebo seats up to 6 people with a 1475mm x 1480 mm table in the centre.
The structure of the Shield gazebo consists of laminated timber arcs, spruce planks are used for the roofing with powder coated stainless steel roof metal.
A Shield garden shelter will undoubtedly enhance your garden and provide a real focal point and whether it is wet or dry you can carry on with your plans without the weather disrupting them.
Shield Gazebo Garden Pod
Unique design and practical
Provides a real focal point in the garden
Made from 80mm laminated wood arches
Powder coated stainless steel roof metal
Supplied un-planed and un-painted
Easy assembly, instructions included
Floor plan 2608mm x 2264mm
Building 3105mm x 3112mm
Overall height 2776mm
Centre table measures 1475mm x 1480mm
360 degree bench to comfortably seat 6 people
Please allow 14 weeks for delivery
It will take 2 people to assemble the Shield Gazebo in 1 day. The metal details are attached with bolts and nuts and once assembled the pod can be relocated in the garden without the need to dismantle. The gazebo must be placed on a foundation or stone blocks and screws for attaching to concrete are included.
Be the first to write a review for this product.