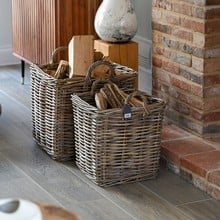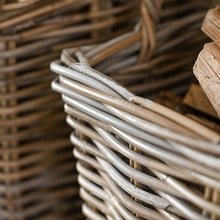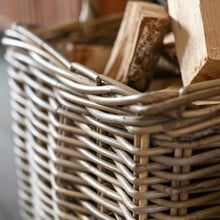 Set of 2 Storage Baskets
£5.95 P&P
A set of two beautifully handwoven Square Rattan Baskets that will provide indispensable storage for use anywhere throughout the home. Generously sized with two sturdy handles they provide an effortlessly stylish way to store wood by the fire.
Read More
These beautifully handwoven set of 2 Square Rattan Baskets will provide indispensable storage for use throughout the home. Generously sized with the two sturdy handles they can provide an effortlessly stylish way to store wood by the fire.
The rustic appearance of these high quality storage baskets would suit perfectly in a bathroom, beside a sofa or bed for blankets and throws and ideal for storing away children's toys and other accessories
Hand crafted Storage Rattan baskets
Two sturdy handles
Supplied in a set of 2
Small measures 40cm H x 38cm W x 38cm D
Large measures 52cm H x 46cm W x 46cm D
For indoor use only
Due to the natural material, this item should not get wet
As these are handmade items the exact dimensions may vary very slightly to the above
Be the first to write a review for this product.