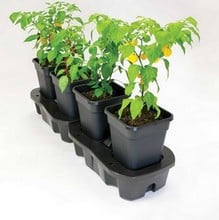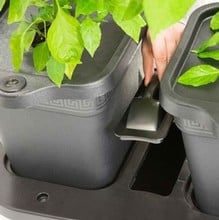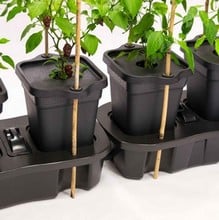 Self Watering Quadgrow Planter
£4.95 P&P
Size: 130cm L x 24cm W x 36cm H
The New Self Watering Quadgrow Planter is a fantastic alternative to growing vegetables in growbags or pots, producing bigger harvests and even keeps plants watered for 14 days while you are on holiday.
Read More
3 Working
day despatch
The New Self Watering Quadgrow Planter is a fantastic alternative to growing vegetables in growbags or pots, producing bigger harvests and even keeps plants watered for 14 days while you are on holiday.
Ideal for tomatoes and all other plants usually grown in a grow bag (including beans, aubergines, peas and peppers).
The 130cm long by 24cm wide Quadgrow growing system is so easy to set-up and use - simply fill the SmartReservoir and the FeederMats in the pots pull water up to the roots when they need it. The plants have access to water whenever they need it so there is no risk of the common gardening problems of tomatoes or other vegetables splitting or of blossom end rot.
This is a New and improved version of our best selling Quadgrow which already has many fans, including the editor of Garden Answers magazine and Kitchen Garden magazine and was featured in the Daily Mirror and Daily Mail.
Quadgrow measures 130cm L x 24cm W
Ideal for growing herbs, salads, fruit and vegetables on the patio, in the greenhouse or in the conservatory
30 litre water reservoir for self watering
Will keep plants watered for up to 14 days using SmartMat capillary matting
Pack of 8 replacement Feeder Mats available separately
Almost completely maintenance-free
Self watering and feeding
Impossible to over or under-water plants
Features 4 x 11 litre growing pots - 25.4cm (10") high, 25.4cm (10") wide at top and 17.8cm (7") wide at bottom
Plants do not stand directly in water
Ideal for holiday watering and summer patio growing
Use year after year
Simple to set-up and pack away at end of season - jargon-free instructions
12 month guarantee
Buy Extra Value Set of 2 (GPL-907)and Save £16
Nutrigrow Plant Feed available seperately
Mulch Cap and Cane Support Kit also available