Seed and Plant Spacing Rule
£4.95 P&P
This Seed and Plant Spacing Rule is the perfect accessory for the gardener, featuring measured sowing holes for seeds with metric and imperial increments, and a printed vegetable spacing guide as an aid to planting
Read More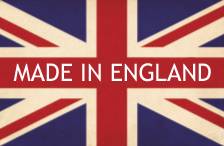 This Seed and Plant Spacing Rule is the perfect accessory for the gardener, featuring measured sowing holes for seeds with metric and imperial increments, and a printed vegetable spacing guide as an aid to planting. Don't leave your spacing to chance. Makes the perfect practical gift.
Ruler features optimum spacing and increments for seed-sowing holes,
Metric and imperial graduations
Printed vegetable spacing guide
Precision machined from beech wood
Made in England
2nd September 2014
What a lovely and very useful tool for the garden. Also bought one for my daughter who is as keen a gardener as I.
12th January 2012
So much easier to space plantings, usually guess and veg rows in partictular end up looking messy. Have put couple of coats of clear varnish on just in case
3rd January 2012
I bought two of these for christmas presents and was so impressed I bought one for myself. It is sturdily made and lists the spacings for all known veg. It is in inches as well as centimeteres which is a blessing for am oldie like me. I haven't used it yet but I am hoping that it will help reduce the amount of thinning I have to do for all those small seeds that are sown close together. In the past I have used a garden ruler but I tend to end up with too many seeds together. This ruler has decent sized holes all along it and clearly marked measurements so I should end up with lovely equally spaced rows of veg on my allotment!
What The Press Say
---
The English Garden
Alpril 2014
Savour the pleasure of seed sowing, potting up and preparing your plants with these pretty and practical items
Timely Tools - featured product
---
Garden Answers
9th February 2009
Garden Gear - 57 Products to Help You Garden
This is a handy measuring aid for when you are sowing vegetable seeds in your allotment this year. Don't leave your spacing to chance - this rule has seed sowing holes, metric and imperial graduations, plus a vegetable spacing guide for different varieties.
---