Seed and Plant Spacing Rule
Made in England
This Seed and Plant Spacing Rule is the perfect accessory for the gardener, featuring measured sowing holes for seeds with metric and imperial increments, and a printed vegetable spacing guide as an aid to planting...More information
Pack Content: single item
Product Code: GRE-314
Rating:
Availability: Sorry, no longer available.
Sorry, this product is no longer available.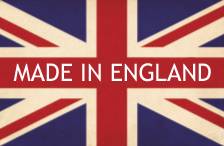 This Seed and Plant Spacing Rule is the perfect accessory for the gardener, featuring measured sowing holes for seeds with metric and imperial increments, and a printed vegetable spacing guide as an aid to planting. Don't leave your spacing to chance. Makes the perfect practical gift.
Ruler features optimum spacing and increments for seed-sowing holes,
Metric and imperial graduations
Printed vegetable spacing guide
Precision machined from beech wood
Made in England
What The Press Say
The English Garden
Alpril 2014
Savour the pleasure of seed sowing, potting up and preparing your plants with these pretty and practical items
Timely Tools - featured product
Garden Answers
9th February 2009
Garden Gear - 57 Products to Help You Garden
This is a handy measuring aid for when you are sowing vegetable seeds in your allotment this year. Don't leave your spacing to chance - this rule has seed sowing holes, metric and imperial graduations, plus a vegetable spacing guide for different varieties.
See Buying Options