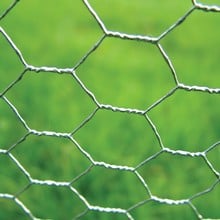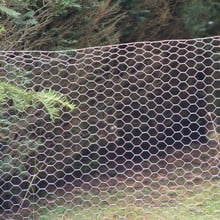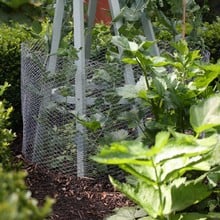 Rabbit & Chicken Wire (1m x 10m)
£4.95 P&P
This Rabbit Wire & Chicken Wire is perfect for protecting your crops and bulbs from burrowing rabbits and squirrels, ideal for chicken runs and the galvanised wire mesh can also provide an extra deterrent around the base of fruit cages.
Read More
3 Working
day despatch
This Rabbit & Chicken Wire is perfect for protecting your crops and bulbs from burrowing rabbits and squirrels and is ideal for chicken runs and the galvanised wire mesh can also provide an extra deterrent around the base of fruit cages.
The galvanised hexagonal wire mesh comes in a natural finish and also in a green plastic coated finish. The natural finish wire measures 0.9m (3ft) high and the green wire measures 1m high (3ft 3") and is available in 2 mesh sizes.
Galvanised hexagonal wire mesh netting
Available in natural & green plastic coated finish
2 mesh sizes - 1" (25mm) - 0.9mm wire gauge & 2" (50mm) - 1.0mm wire gauge
Natural finish measures 0.91cm (3ft) high
Green Plastic coated finish measures 1m (3ft 3") high
Both supplied on 10m rolls
Please Note: Mesh size refers to the height of the hexagonal hole, the width can be wider - 1" Mesh measures 3cm x 5cm and 2" measures 5cm x 8cm.
17th April 2018
I used this to line the base of my Allotment Raised Beds to prevent mole entry. Very good value at this price.
21st June 2015
Bought the green wire mesh which was really easy to use and will blend in well with the hedging we are going to plant so being effective and subtle
7th June 2013
I use this to protect some plants, especially newly planted ones, from rabbits. The colour is such that it blends in beautifully, it's easy to cut and is quite pliable. Doesn't cure my rabbit problem but certainly helps and means we can co.exist quite happily.
Rabbit & Chicken wire - Sizes & Prices
Natural Finish - 3ft (91cm) High
25mm/1" mesh x 10m/33ft roll - GDN-036 £23.95
50mm/2" mesh x 10m/33ft roll - GDN-041 £9.95
Green Coated - 3ft3"/1m high
25mm/1" mesh x 10m/33ft roll - GDN-853 £23.95