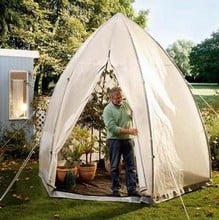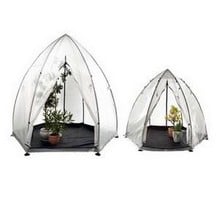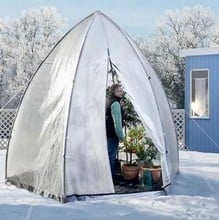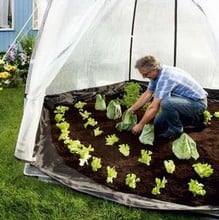 Overwintering Plant Tent
£5.95 P&P
Size:
2m x 2.4m & 2.8m x 3.4m
Send your vulnerable potted plants on a frost free winter camping trip in your own back garden with the Overwintering Plant Tent, fully loaded pop up winter protection tents an Everest expedition would be glad to use
Read More
Available in an extra large size measuring 2.8m by 3.4m - the Overwintering Plant Tent features a sturdy click together frame and the material giving your plants total winter protection is UV resistant, 130 gsm PVC-foil. There's an insulated ground sheet which zips onto the tent too make things even more toasty and light and air are in plentiful supply thanks to the light transmissive qualities of the PVC foil and the vent hole.
The Overwintering Plant Tent can be used to compliment an existing greenhouse which may prove too costly to heat or can be used as the sole source of winter plant protection and you needn't confine the tent to winter use; it is equally adept at warming the soil and forming a protective cloche over early crops, and can also be filled with a layer of soil to raise spring crops inside!
You can even deploy the plant tent as a summer hot house for your temperate fruit and vegetables and with its flexibility, easy relocation and 30 minute assembly time - and the fact you can fold it away in the accompanying carry bag - we're sure the Overwintering Plant Tent is going to be in use 12 months of the year!
Overwintering Plant Tent available in Extra Large Size
Measures 2.8m H x 3.4m W
Perfect for protecting vulnerable winter potted and container plants
Offer an inexpensive alternative to greenhouse
Can also be used to compliment greenhouse as an overflow
Plants inside protected from snow, hail, frost, wind and rain
Sturdy clip together frame
UV resistant PVC foil cover
Good light tramsmission through protective cover
Double zipped openings for easy access
Closeable vent hole to allow air in
Guy ropes to protect from wind
130gsm PVC cover
Insulated and removable zip attached groundsheet
Assemble in 30 minutes
Pack away in accompanying carry/storage bag when not required
Use in early spring to warm soil and protect early sowings
Fill with layer of soil and plant up for protected early cropping
Use in summer as a hot house for peppers, tomatoes, cucumbers and courgettes
Completely portable
Introduce electric heater if required
Be the first to write a review for this product.
What The Press Say
---
Telegraph Gardening
2012-10-26
Top Kit - Hot Hat
"Jack Frost is threatening to crack his knuckles so bring half-hardy border perennials and tender exotics into the new Overwintering Plant Tent. This giant fleece cloche with insulated ground sheet needs no heating. Also good for warming soil, raising spring crops and hot-housing tomatoes."
---