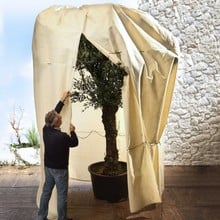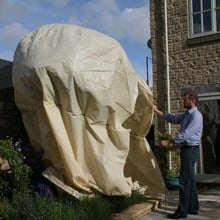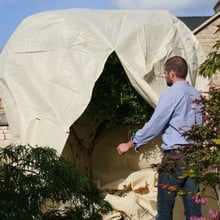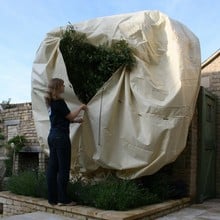 Mammoth Plant Jacket
£5.95 P&P
Not a plant jacket for Mammoths but a completely reliable, 100gsm zipped and drawstring secured winter coat for large shrubs and small trees.
Read More
Availability: Out of Stock

Unfortunately this item is currently out of stock.
The Mammoth Plant Jacket isn't a winter cover for Mammoths but is a completely reliable, 100gsm zipped and drawstring secured winter coat for large shrubs and small trees.
Measuring a colossal 3.6m high by 2.5m wide, the Mammoth plant jackets high quality fleece protects trees and shrubs from sub zero temperatures, strong winds, heavy rain, hail and wind whilst allowing water and air to permeate through.
Although you'll probably need a ladder to place the Mammoth Plant Jacket over the tree or shrubs which needs protecting, the resolute zipper and unfailing drawstrings will make sure the plant jacket stays put and fends off the worst the winter can throw at it!
Mammoth Plant Jacket measures 3.6m H x 2.5m W
Made from quality 100gsm fleece
Protects large shrubs and trees from frost, snow and winter weather
Fleece is water and air permeable
Strong zipper fastener
Drawstrings to keep out frost and cold
Offers excellent wind protection
24th November 2017
Saw this and realised I needed it for a giant butia palm in garden to protect from salty winter winds. Quite easy to fit, couple of eyelets in fabric did tear slightly on pulling drawstrings together hence 3 star for design but overall great product so far, test will be next spring when we take it down and see if wind has done any damage to it