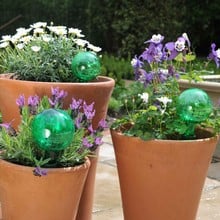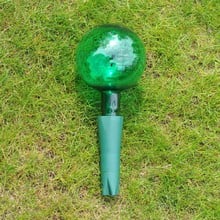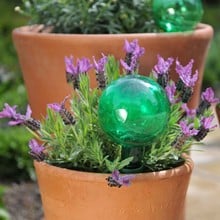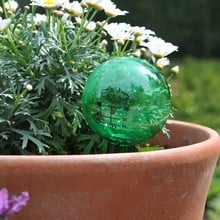 The Holiday Watering Kit is a weather/climate controlled system so it is versatile enouth to be used in outdoor hanging baskets in the summer and/or indoor pot plants in the winter. A value for money product that can be used in all seasons, year after year.
The drip rate adjusts automatically and will adapt to the often-changeable British weather and will even switch itself off during the night, giving better control than many of the expensive 'timed' watering systems.
The F4 Flask holds 650ml approx: enough water to keep a hanging basket or a large pot watered for well over a week in half sun, half shade conditions and it's dripper can be easily adjusted to the location and size of your plant, with two settings for indoor and outdoor use.
Simply fit the flask into the spike and place vertically into the compost of hanging baskets, tubs, pots, growing bags or any other container, then the weather /climate or room conditions take over…
Not only is the Watering Spike the first automatic weather controlled waterer, but because it delivers the water straight down to the roots none of the water will be wasted by surface evaporation or washing through the soil. There is no dripping, spillage or waste!
Watering Kit Contents:
3 x Short Watering Spikes
3 x Long Watering Spikes
3 x 500 ml F3 Flasks
3 x 650 ml F4 Flask
What The Press Say
---
Kitchen Garden
Aug 2013
What to Buy
The Holiday Watering Kit is the world's first system where the drip rate adjusts automatically in response to climate conditions, dispensing more water during warmer weather and less during cooler periods. So whether the plants are indoors, outdoors or in the greenhouse, the watering kit will save you water, time and effort and give you the peace of mind of knowing that you'll come home to perfectly watered plants. The Holiday Watering Kit consists of three sets of Short Watering Spikes, perfect for hanging baskets and potted plants, and three sets of Long Watering Spikes, for deeper pots, containers and open soil. The six attractive and discreet Water Flasks each provide enough water to keep a basket or large pot watered for well over a week. The spikes can also be used with ordinary plastic bottles, providing well over two weeks' water.
---