Harrod Ogee Garden Screens
£14.95 P&P
Harrod Ogee Garden Screens create a stylish and strong framework to support your climbing plants and the beautiful curved lines of the ogee screen panel will become a striking focal point in the garden.
Read More
10 Year
Framework
Guarantee
Exclusive Designed &
Made by us in the UK
Harrod Ogee Garden Screens create a stylish and strong framework to support your climbing plants and the beautiful curved lines of the ogee screen panel will become a striking focal point in the garden. Perfect to enclose, divide or screen different areas of your garden, the Ogee Garden Screens are a long lasting alternative to wooden screens or trellis and come with a 10 year guarantee.
Endorsed by the RHS, the Ogee hoop which makes up the frame of each panel, is made using 25mm box section steel which is galvanised and powder coated Matt Black for a long-lasting, weatherproof finish. The steel wirework mesh trellis panels use 3mm wire mesh with 8mm surround frames, zinc plated and high temperature powder coated Matt Black.
The Ogee Hoop measures 1.5m wide and 2.52m high above ground. There is an additional 40cm on each upright designed to be inserted into the ground for stability. These uprights can be concreted into position for even greater rigidity.
The Ogee Garden Screens can be supplied with Double or Single Landscape panels or an 80mm Knotted Mesh Netting Kit.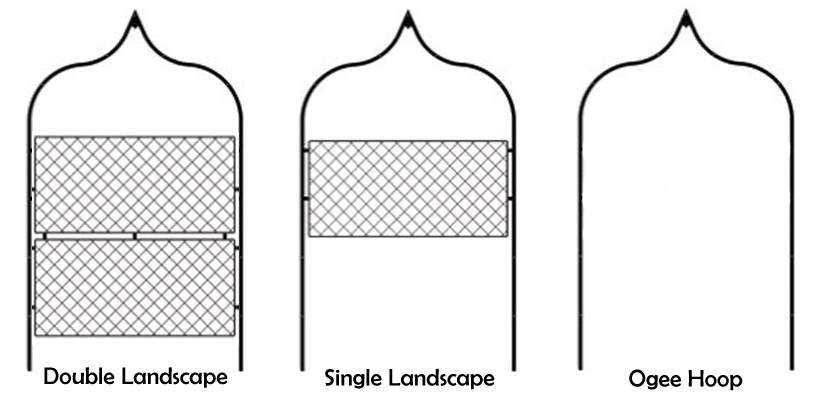 Double Landscape Kit - Includes Ogee Hoop and 2 Landscape Panels.
Single Landscape Kit - Includes Ogee Hoop and 1 Landscape Panel.
Ogee Hoop - Includes Single Ogee Hoop Only.
80mm Knotted Mesh Netting Kit - Includes Ogee Hoop and 80mm Knotted Mesh to cover entire screen.
After choosing your design, decide how many panels you need for the complete screen. You can then choose the number of linking hinge packs required. Each hinge pack includes 3 hinges to securely link 2 screens. The hinges allow for the screen to follow corners and curves if necessary.
For extra stability on soft soil or very exposed sites, our 45 Degree Ground Braces will provide extra rigidity to the screens. Supplied in a set of 2 to support a single panel, the braces fit to the framework and are secured in place with the included 40cm ground pin.
Another alternative is to link multiple garden screens with lengths of galvanised steel gripple wire and gripple fasteners. This is ideal for supporting light ornamental plants or to create an espalier frame for fruit tree growing.
Exclusively Designed & Made in the UK by us
RHS Endorsed
10 Year Framework Guarantee
Ogee hoop made from 25mm Box section steel - galvanised and powder coated
Trellis panels use 3mm wire and 8mm surround frame - zinc plated and powder coated
Ogee Hoop Measures 1.5m wide x 2.52m high
Double Landscape kit includes hoop and 2 trellis panels - each panel measures 140cm W x 69cm H
Single Landscape kit includes hoop and 1 trellis panel - panel measures 140cm W x 69cm H
80mm Knotted Mesh Netting Kit covers entire screen
Linking Hinge Pack includes 3 hinges to link 2 screens
45 Degree Ground Braces supplied in packs of 2
Gripple Wire supplied in 25m pack
Galvanised Steel Gripples supplied in packs of 10
Self Assembly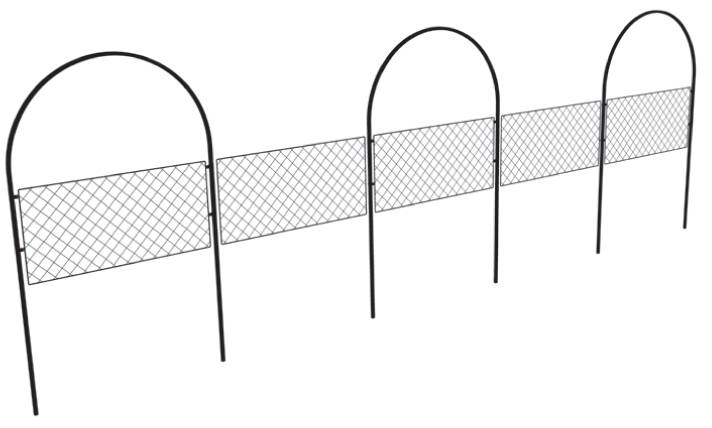 You can also position trellis panels between screens to create your own garden screen design. If you are interested in this type of design then please contact our Made to Measure team on 0333 400 1444 or email madetomeasure@harrod.uk.com