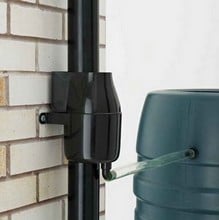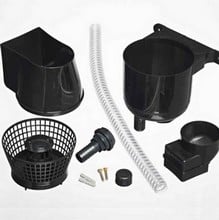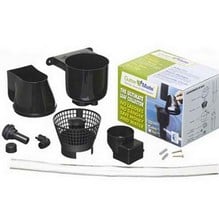 Guttermate Rainwater Filter & Diverter
£4.95 P&P
The Gutter Mate is an ingenious design to stop debris and waste clogging downpipes, filtering rainwater and also diverting the rainwater to a waterbutt fits up to 80mm round downpipes and 75mm x 75mm square
Read More
Availability: Out of Stock

Unfortunately this item is currently out of stock.
The Gutter Mate can be easily installed on either round or square plastic downpipes. The water passes through a filter within the guttermate which stops leaves and debris and can be easily inspected and cleaned.
Winners of the Hertfordshire Green Award 2011, FSB Green Footprint for 2013 and UK Green apple award for 2012 Gutter Mate filter is approved by the Water Technology List allowing the Gutter Mate to be used in the Code for Sustainable Homes.
Gutter Mate Filter stops debris clogging downpipes
Easy to install,
Round Downpipe - fits 68mm to 80mm
Square Downpipe - fits 65mm square to 75mm square
Filter can be easily inspected
Supplied Hose is 0.5m long x 20mm diameter
Easy to clean - takes 30 seconds
Water can be diverted to a water butt
Protects soakaways
Award winning design
Approved by Water Technology List
Please see Installation Instructions for more details
19th May 2014
The key benefit of this particular diverter is its delightfully simple and easy ability to keep the gutter and downpipe clear of all the larger pieces of debris that get washed off your roof. With cheaper (or sometimes 'free') diverters I have found they easily clog up and are frustrating and time consuming to clear. With the Guttermate it literally takes seconds to lift out the basket filter, shake out the detritus, and replace. Its as simple as that. The base of the Guttermate screws to the wall so securely holds the lower section of the downpipe, but I needed to install an extra downpipe bracket on the upper section of downpipe as its not supported by the diverter. It may take a few more minutes to install the Guttermate than cheaper diverters, but should be well worth the time saved in future maintenance of the gutter and downpipe.
What The Press Say
---
Which Gardening
May 2014
New Products and our verdict - James Robbins Researcher
The Guttermate fits to the wall and diverts water from a down-pipe into a water butt. It has a removable filter to catch debris washed down the pipe. I found it easy to fit, and I soon had it hooked up to my water butt. Before long it started raining. There weren't lots of leaves around, but the Guttermate did stop the small amount of debris in the gutter from getting into the butt. It was easy to remove the filter and clean out the debris. A fine-mesh insert is also available if you plan to use the water in a pressure washer. Once the butt was full, the water was diverted to flow down the down-pipe as normal. It's a simple solution that works well.
---